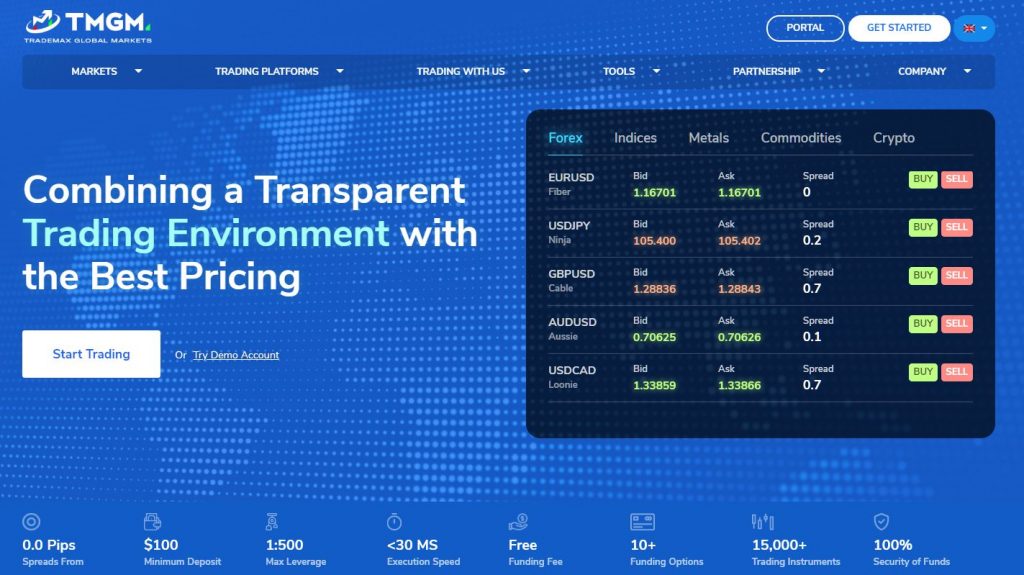 I will explain how to deposit into TMGM account.
If you haven't opened a TMGM account yet, please open an account by referring to my article.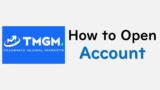 TMGM(TradeMax) | How to Open an Account
I will explain how to open a TMGM (TradeMax) account.If you register according to this procedure, it will be completed i
\Just 3 minutes!!/
Open an Account
TMGM Deposit Methods
The following deposit methods are available on TMGM.
Available deposit methods vary depending on your country of residence.
The explanations from here on are based on the ones available in Thailand where I live, but please visit the official website to know which deposit methods are available in your country.
Methods
Fees
Processing Time
Credit Cards
(VISA, Master)
No Fees
Instant
Bank Transfer
No Fees
1 Working Day
NETELLER
No Fees
Instant
Skrill
No Fees
Instant
Union Pay
No Fees
Instant
Alipay
No Fees
Instant
Fasapay
No Fees
Instant
STICKPAY
No Fees
Instant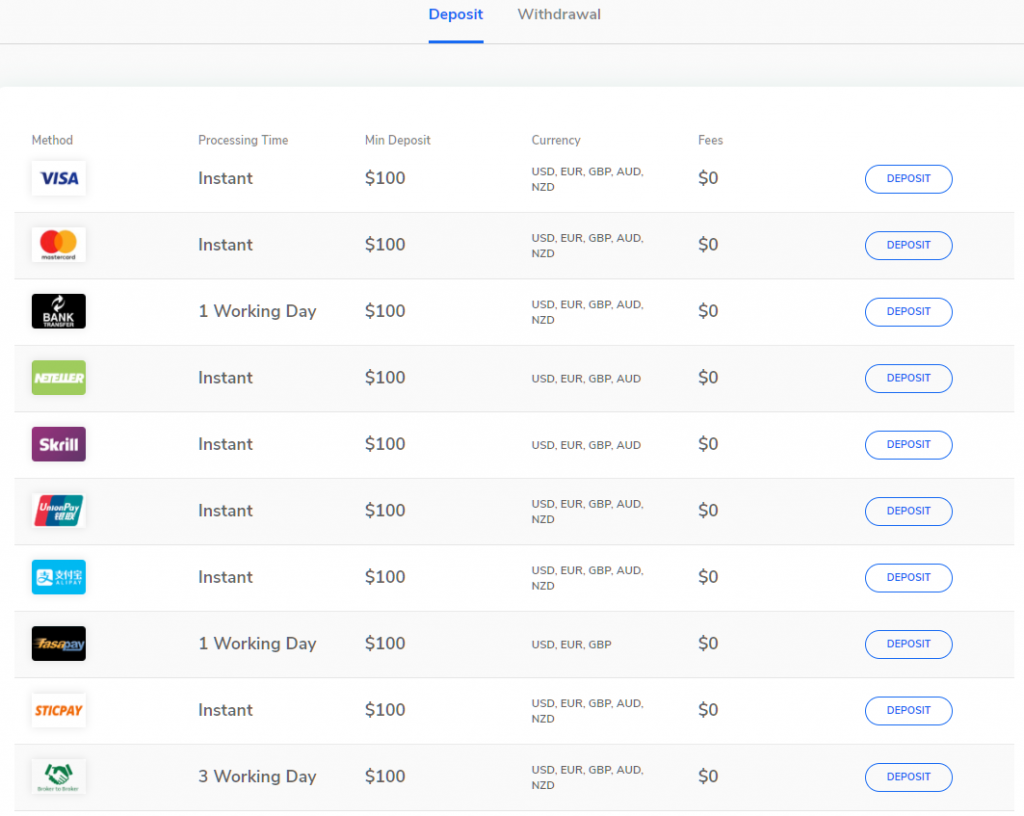 Restrictions on withdrawal by deposit method
There are the following restrictions.
From a money laundering perspective, this is almost same for any forex broker.
If you deposit with a credit card, you can withdraw up to the deposit amount.
For credit cards, there may be further restrictions depending on the card company.
If you deposit with a credit card, the maximum withdrawal amount is the deposit amount.
In other words, if you make a profit, you can only withdraw the profit by bank transfer.
Although it is a restriction by the credit card company, for example, you may not be able to withdraw money after a certain period of time (several months).
This is because in the case of credit card withdrawal, it will be refunded (withdrawn) by canceling the deposit.
For the same reason, credit card withdrawals may take long time.
Hot to Deposit into TMGM Account
From here, I will explain the specific deposit method using my account.

Only the main ones will be explained.
E-Wallet services such as Skrill, NETELLER, STICKPAY have almost the same flow.
As mentioned above, the available deposit methods vary depending on the country or region where you live, but here I will explain the following major deposit methods.
Credit/Debit Card
International Bank Transfer
USDT (Tether)
STICKPAY
Log in to TMGM Portal
First, log in from TMGM top page to Portal page.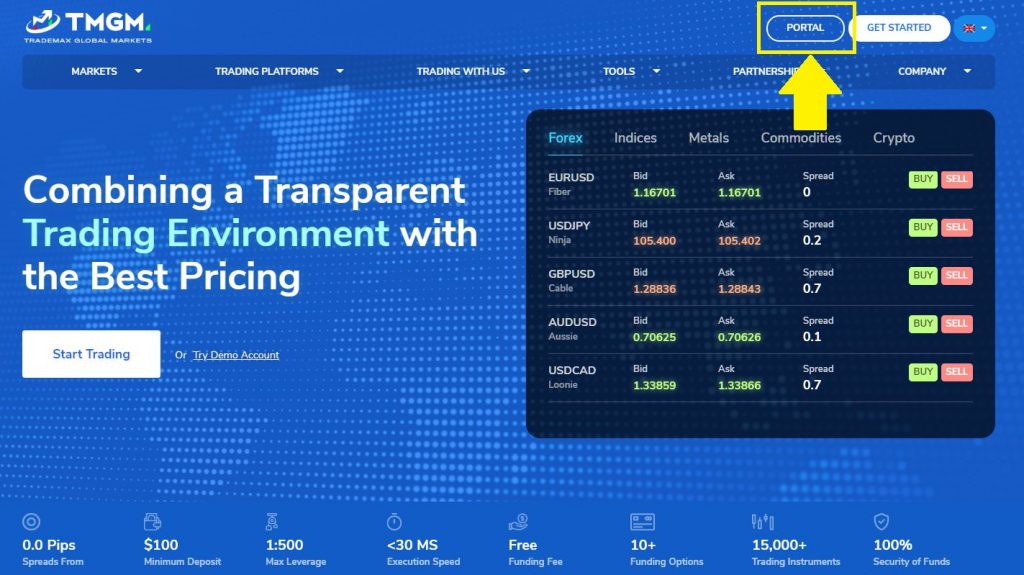 Click "Funding Management"

Select TMGM Account
Click "DEPOSIT" for the account to be deposited.
If you have multiple accounts, please do not make a mistake.
The image below is mine with two accounts.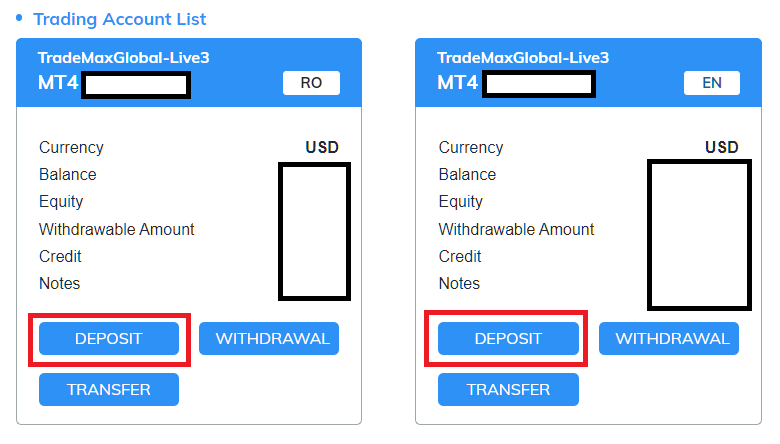 Deposit by Credit/Debit Card
This is the procedure for depositing with a credit card.
The following credit cards are accepted.
Select "Credit&Debit Purchase"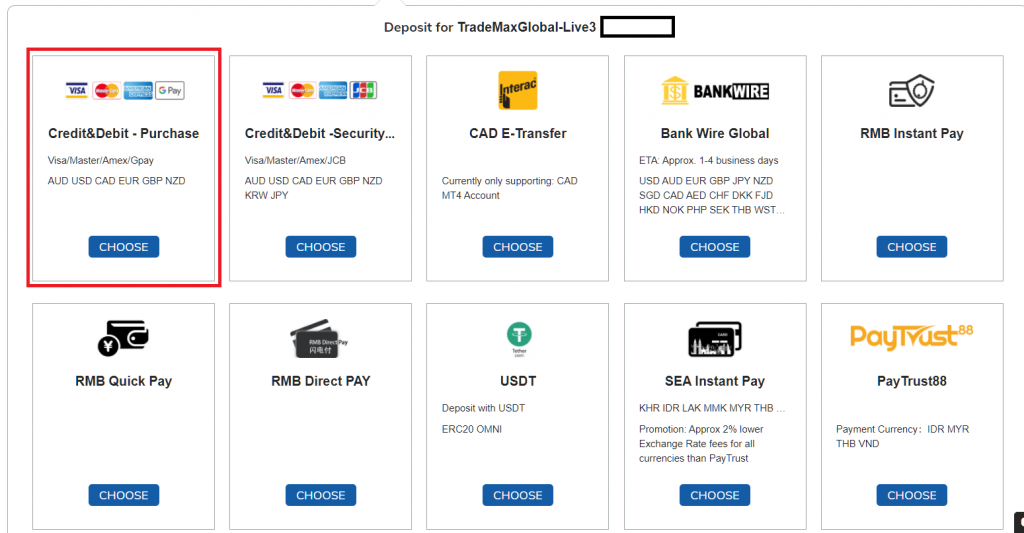 Notes for Credit/Debit Card Deposit
The minimum deposit is $100.
The maximum is $ 10,000.
In addition, when depositing, it will be settled in Euros.
This seems to be the rule of the payment agent entrusted by TMGM.
Enter the Deposit Amount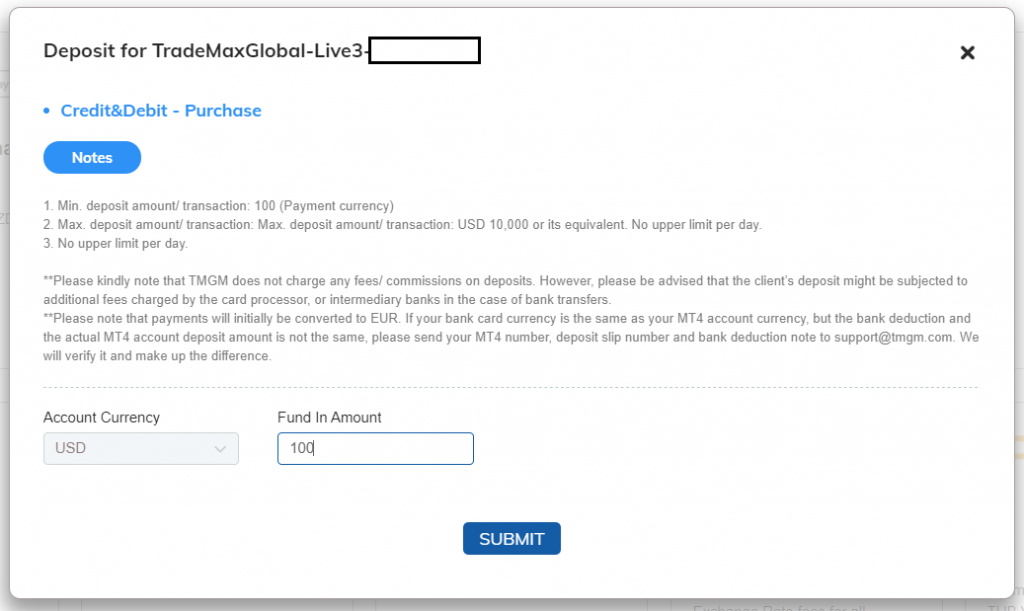 Jump to Payment Screen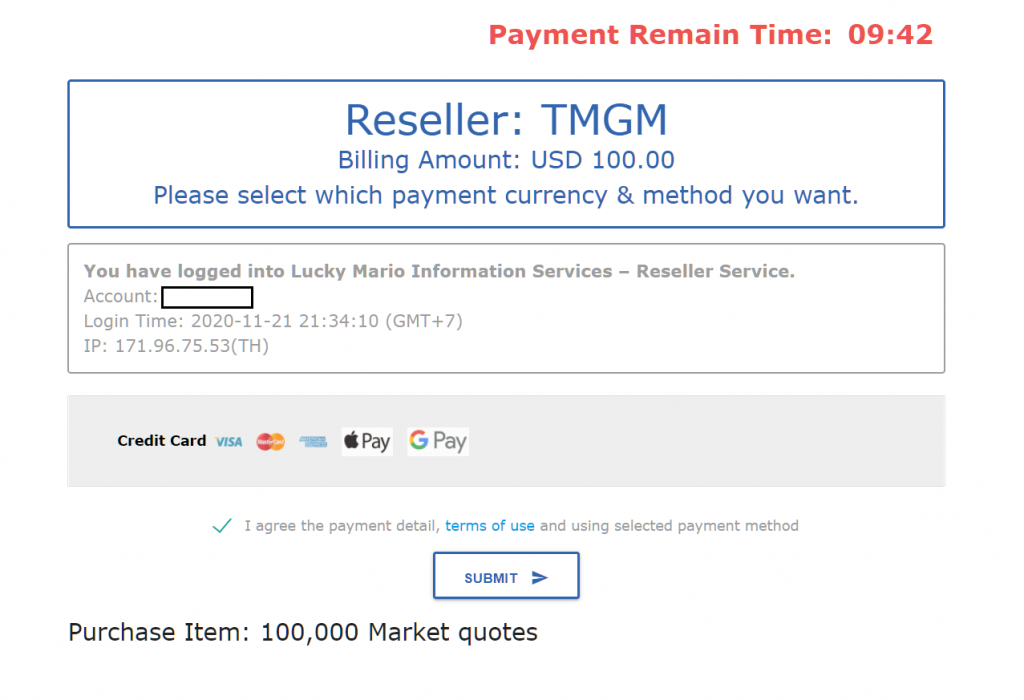 Enter Credit Card Information
The deposit amount of $ 100 you specified earlier is displayed in euros.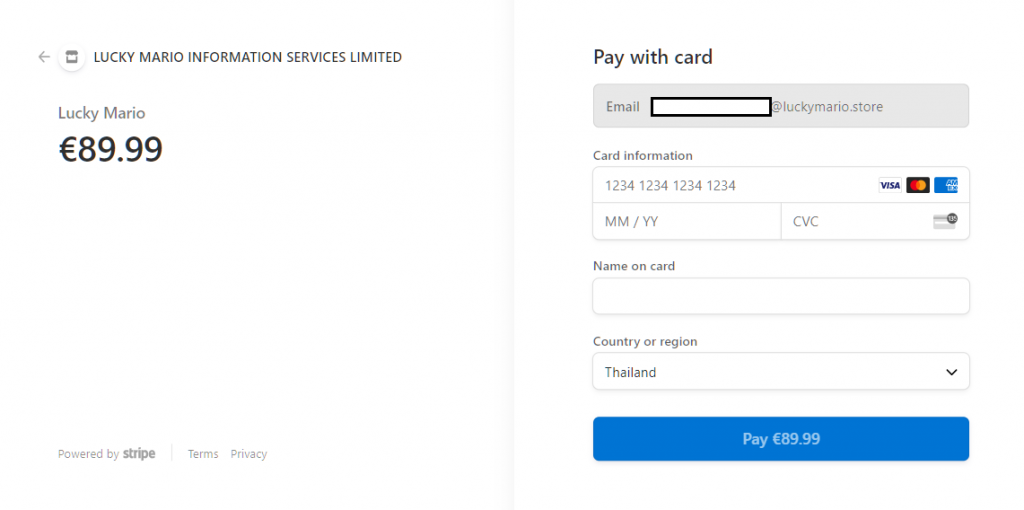 Deposit by International Bank Transfer
Select "Bank Wire Global"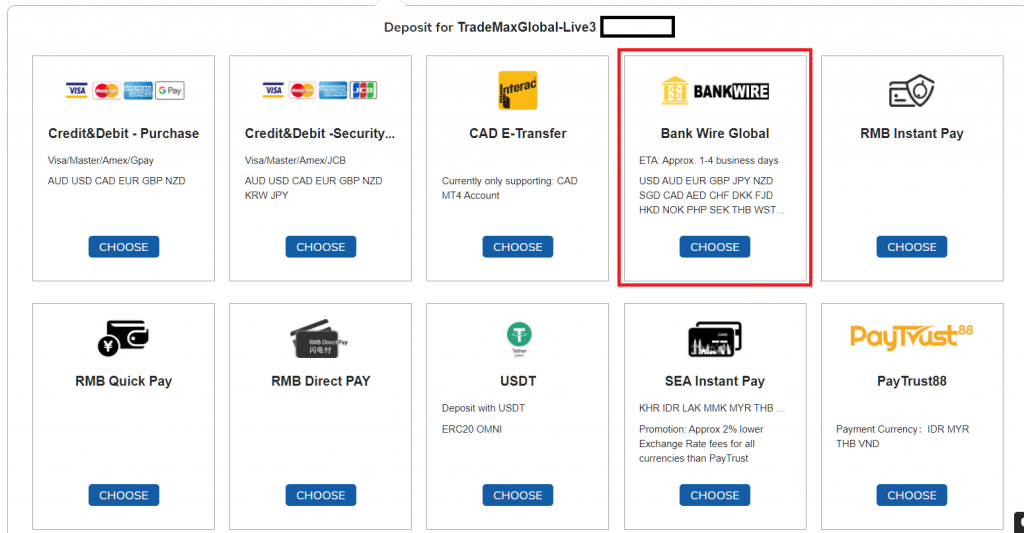 Notes for International Bank Transfer-Currency selection
For international bank transfers, first select the currency you want to transfer.
This is very important, and the transfer account number will change depending on the currency you send.
TMGM's account is located at National Australia Bank, but the accounts it accepts are divided according to currency.
Probably because the currency is set for each account.
The images below are for the Japanese Yen (JPY) and the US Dollar (USD).
You can see that the account name and account number are different.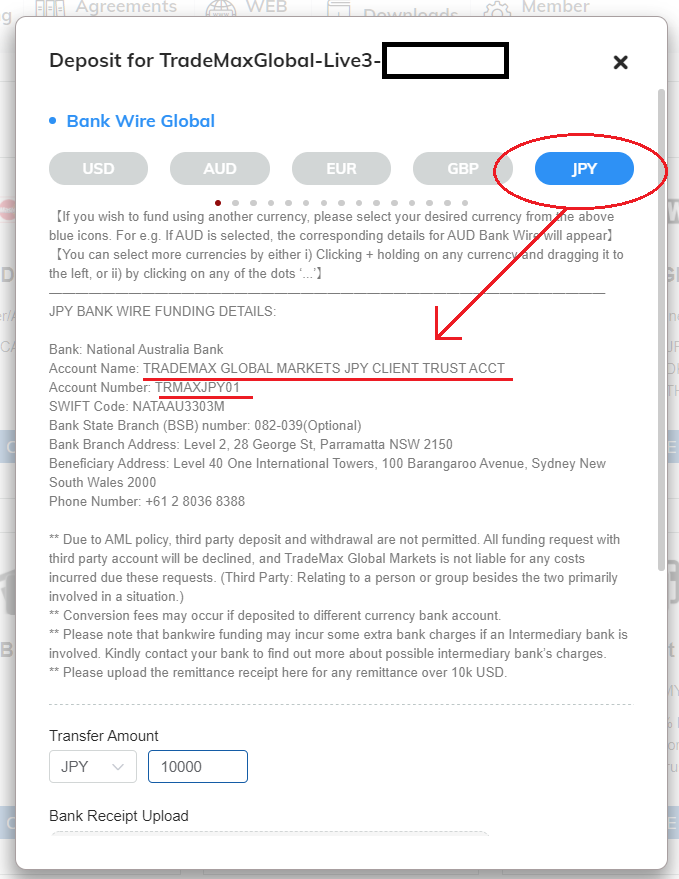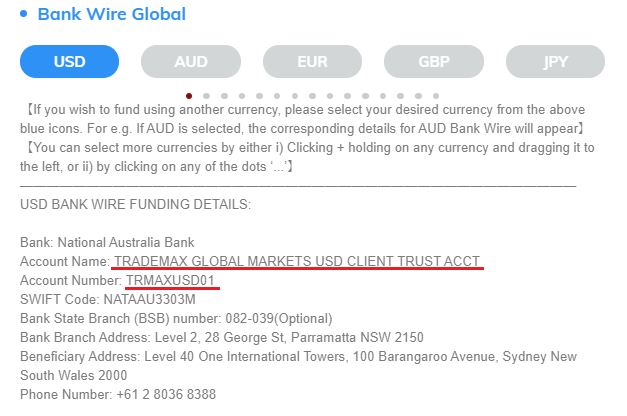 Confirm Bank Account and Do Remittance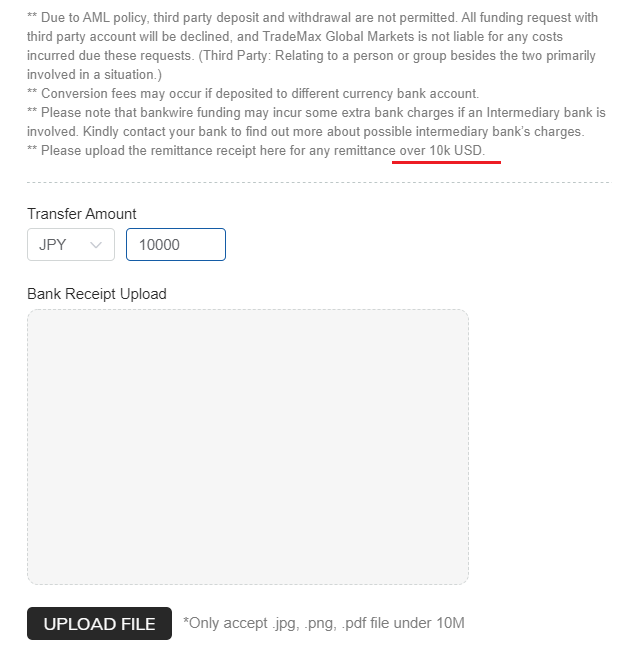 Deposit by USDT (Tether)
Next is the procedure for depositing the cryptocurrency USDT (Tether).
As you know, USDT is a cryptocurrency created with the purpose of being about the same value as the US dollar (USD).
Cryptocurrency price fluctuations are linked to the USD and are not suitable for speculation.
On the contrary, since the price is stable, the exchange value is high, and I think that it is useful as a means of remittance in this way.
However, there are drawbacks.
The USDT remittance screen on TMGM is all Chinese for some reason.
I do not know the reason.
Is this just only me in Thailand?
I will explain for the time being.
Select "USDT"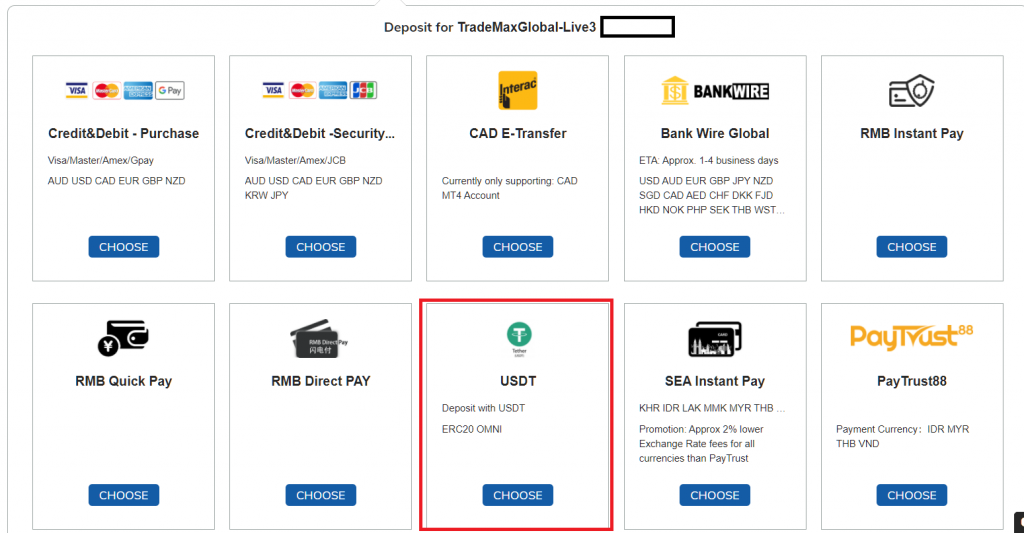 Confirm Account and the Deposit Amount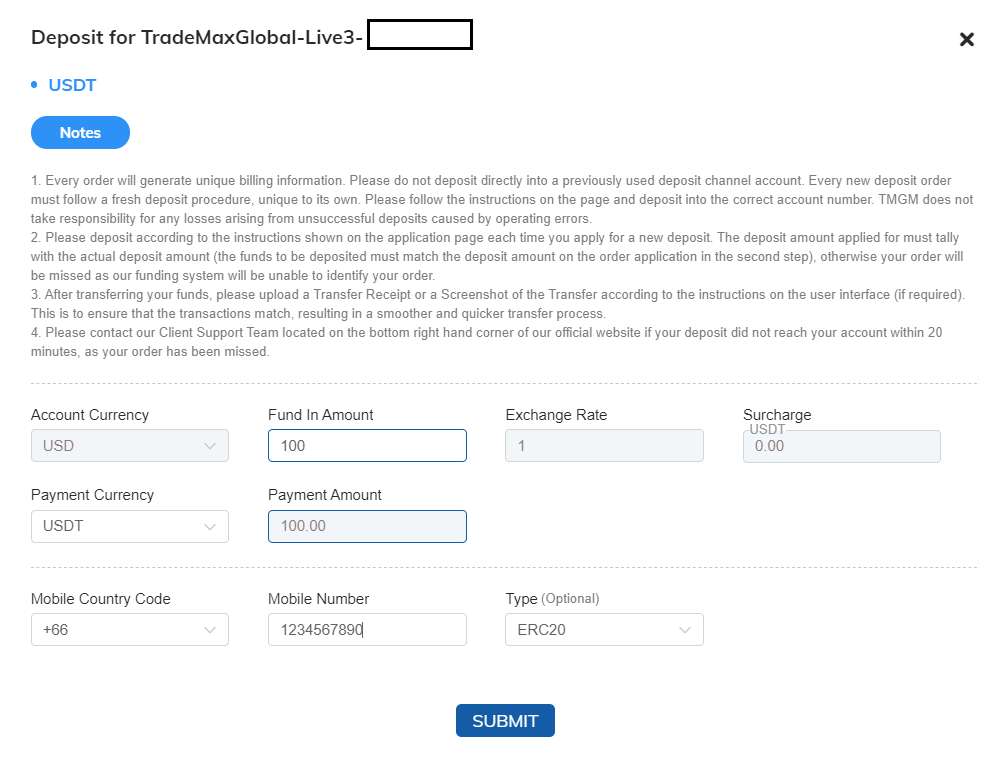 Select ERC20 / OMNI
From here all is in Chinese.
Here, select ERC20 (Ethereum) or OMNI (Bitcoin), which is the blockchain method adopted by Tether.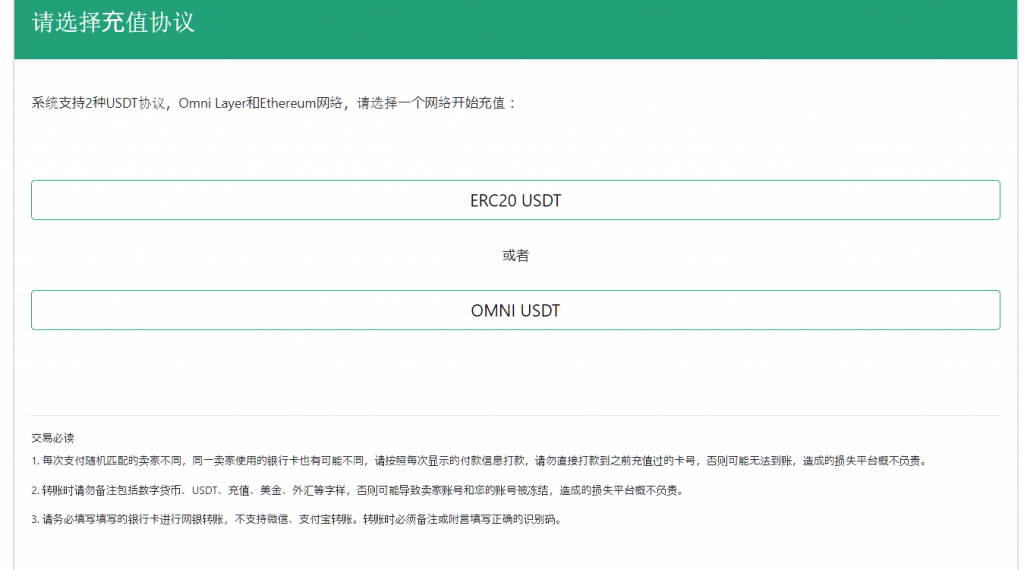 Send USDT
Send money to the displayed address.
I specified $ 100 for the remittance amount, and the tether amount is displayed as 100.099241USDT.
You can see that it is almost the same value as USD.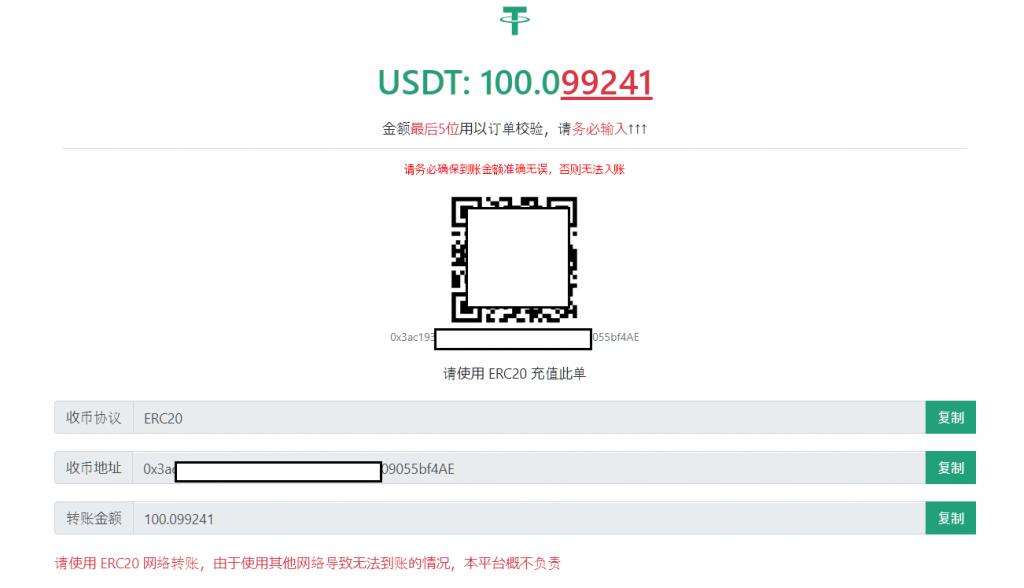 Deposit by STICKPAY
Select "STICKPAY"

Confirm Account and the Deposit Amount

Log in into STICKPAY, Do Payment
Summary
I explained how to deposit TMGM.
A general notes with forex brokers is that deposit methods are changed sometimes.
Also, as mentioned above, the available deposit methods differ depending on the country or region where you live, so please check the official website to confirm it.
\Just 3 minutes!!/
Open an Account