This is an article about customer support of TitanFX.
TitanFX is a popular forex broker for intermediate to advanced traders around the world because of its very narrow spreads.
The trading environment is very good, and although they don't offer any bonuses, I can understand why they are still very popular.
Although TitanFX is designed for intermediate to advanced traders, it has an excellent support system.
In this article, I will explain exactly how to contact the various contact points.
What you can learn in this article;
About TitanFX Customer Support
How to contact it
About TitanFX Customer Support Service

TitanFX provides the following means of inquiry.
| Customer Support | Supported |
| --- | --- |
| Live Chat | ✔ |
| e-Mail | ✔ |
| Inquiry Form | ✔ |
| Phone | ✔ |
How to Check on TitanFX Official Web Site
Click 'About Us' -> 'Contact' from the top page of TitanFX official site.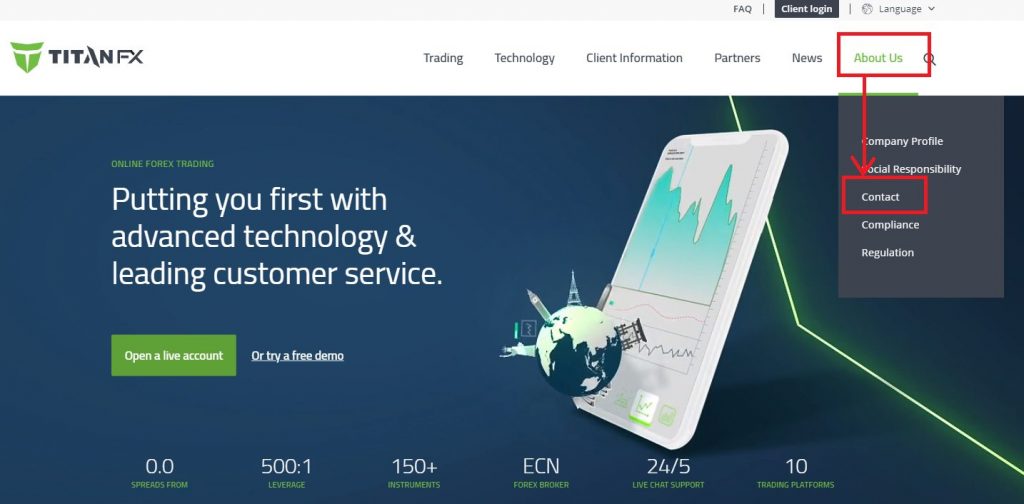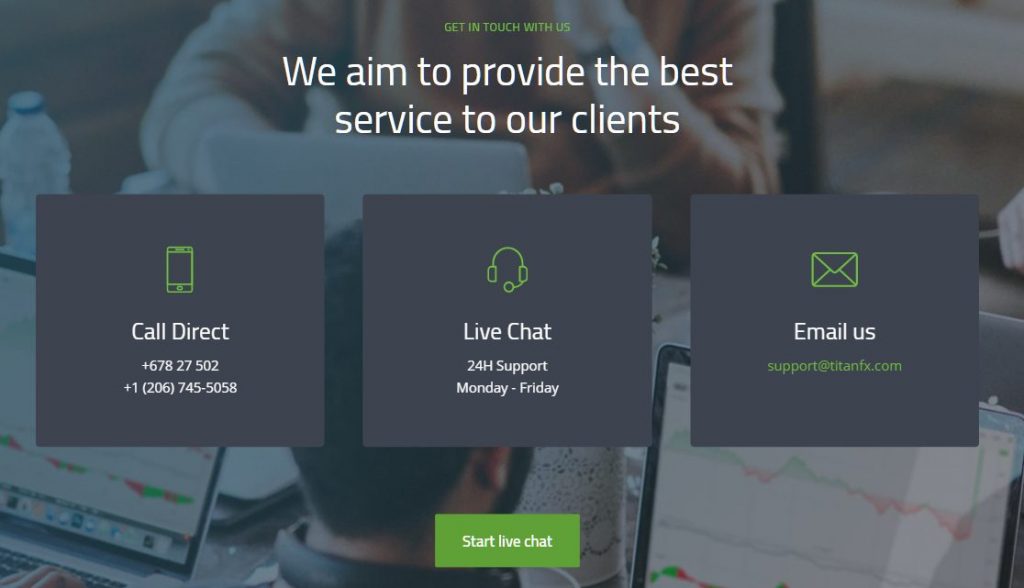 Check Support on TitanFX Official Site
Live Chat is the Most Recommended!
The best way to inquire is through live chat.
You can communicate with support staff in real time.
Depending on the nature of your inquiry, this may be the fastest way to resolve it.
However, depending on the country and language, live chat service hours may be limited.
If the staff is not available, you can send them an e-mail. However, replies will be sent on weekdays after the vacations and will be a little delayed.
Notes on the content of the inquiry
TitanFX does not respond to the following types of inquiries.
Inquiries that cannot be answered by support
Trading methods and strategies
Forecasting market price movements
How to use Metatrader (MT4, MT5)
In particular, TitanFX is not able to answer any questions regarding investment advice.
This is prohibited by law.
Also, it is better to avoid inquiring about the basic terms and contents of trading such as what is forex, what is a currency pair, and what is a spread nd so on.
(If the support is not busy, they may be able to tell you.)
On the other hand, you should contact the support desk for the following information and inquiry.
What to ask support directly
After opening my account, I sent my personal identification documents, but they are not approved yet.
I have made a withdrawal request, but the money has not arrived yet.
I tried to place an order or close a position, but an error occurred.
There are no answers to other frequently asked questions.
TitanFX Frequently Asked Questions (FAQ) are available on the official website.
If you have any questions, please check the FAQ first.

Hot to Make Inquiries
From here, I will explain the specific inquiry procedures for each contact point.
Live Chat
It is the most user-friendly Live Chat.
Access to Live Chat
Follow 'About Us' -> 'Contact' from the top page of TitanFX official site and click 'Live Chat'.

Or click Chat icon on the bottom of TitanFX web site.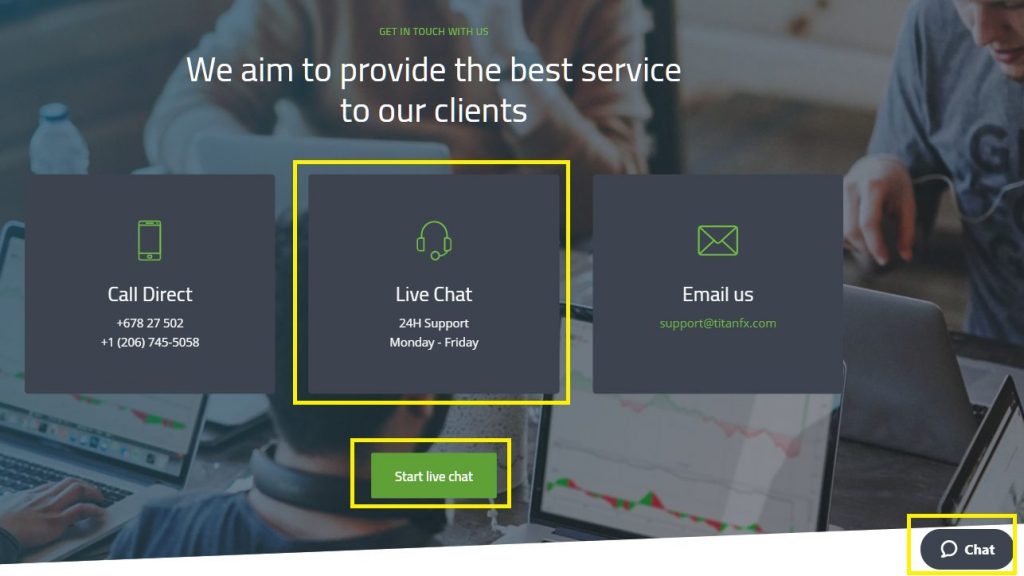 Enter Live Chat Room
A chat space will appear in the lower right corner of your browser.
Enter the required information to start a chat.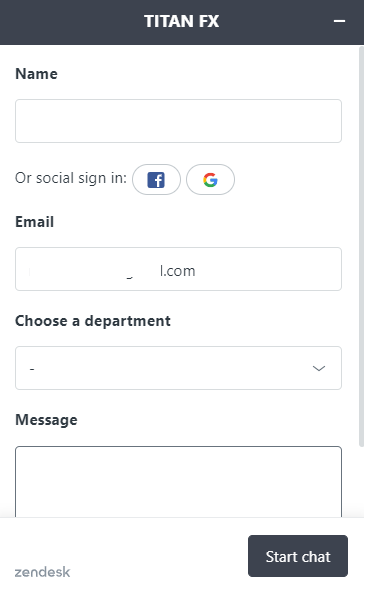 Select Language
Select which language you would like the live chat to be in.
TitanFX supports chatting in Japanese or English.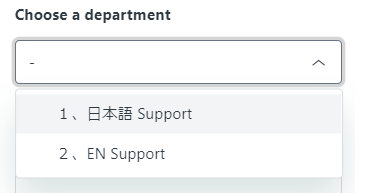 Start Live Chat
When you enter the chat room, the chat will start.
In the chat, you can also send files such as screen shots.
e-Mail
You can send an email to the following email address listed on the contact page.
The email address may vary depending on your country of residence, so please check it.
You can send an email at any time, but you should expect a response as early as the same day, or the next business day depending on the time of day.
Also, if the inquiry is about your own account, please remember to include your name, account ID, and e-mail address.
support@titanfx.com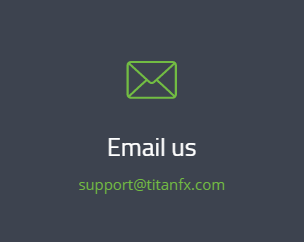 Contact form
You can send inquiry from contact form on official web site.
This is almost same as contacting by email.
Access to Inquiry Form
Click 'About Us' -> 'Contact' from the top page of TitanFX official site.

Scroll down to the bottom of the screen and you will see the Contact Us form.
Enter your name, email address, and any questions you have, then click Submit.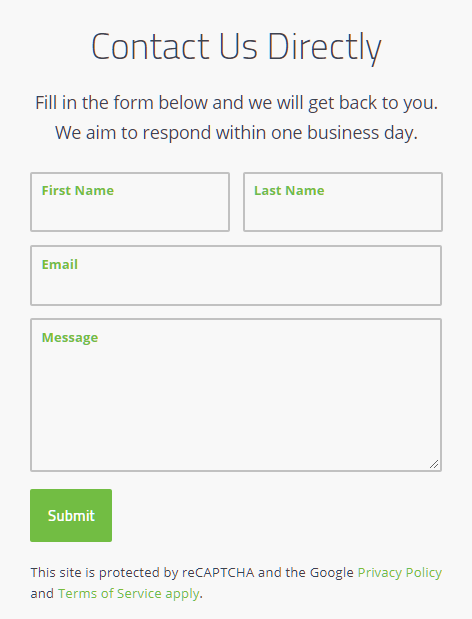 Phone
You can also call the support center directly for urgent inquiries.
The phone numbers of the support center are listed in the image below.
Please note that these are all overseas phone numbers, so you will be making an international call and the phone charges will be higher.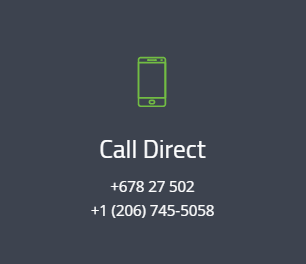 Summary
What did you think?
TitanFX offers a variety of support systems.

If you have any problems, please try to use it!
Check Support on TitanFX Official Site
\Just 3 minutes!!/
Open an Account for FREE