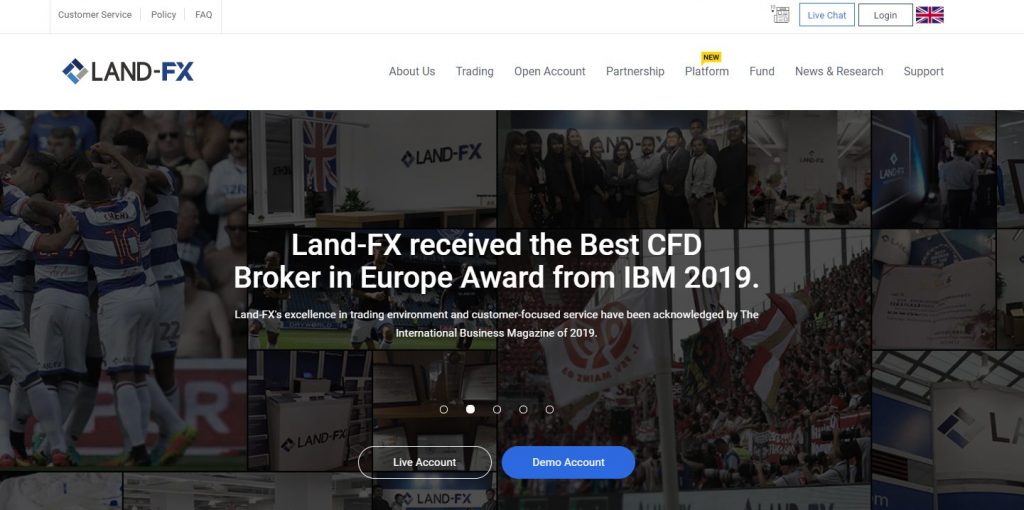 Introducing the account types of LAND-FX.

LAND-FX is very popular due to its overwhelmingly low fees that keep other brokers away.
Other trading conditions are at a general level, but considering that it will be used for a long time, it is a forex broker that can be a main broker.
There are two types of accounts provided by LAND-FX.
LAND-FX Account Types
Standard Account
ECN Account
Occasionally, we are looking for limited accounts with promotions for a limited time, but these two accounts are always available.

In this article, after thoroughly comparing each account type based on specifications and trading conditions, I will clarify the characteristics and precautions for each account type and carefully explain which account is suitable for which type of trader.
This article is recommended for people like
I want to know LAND-FX account types.
I want to know specifications and conditions of each account.
I'm not sure which account type is the best for me.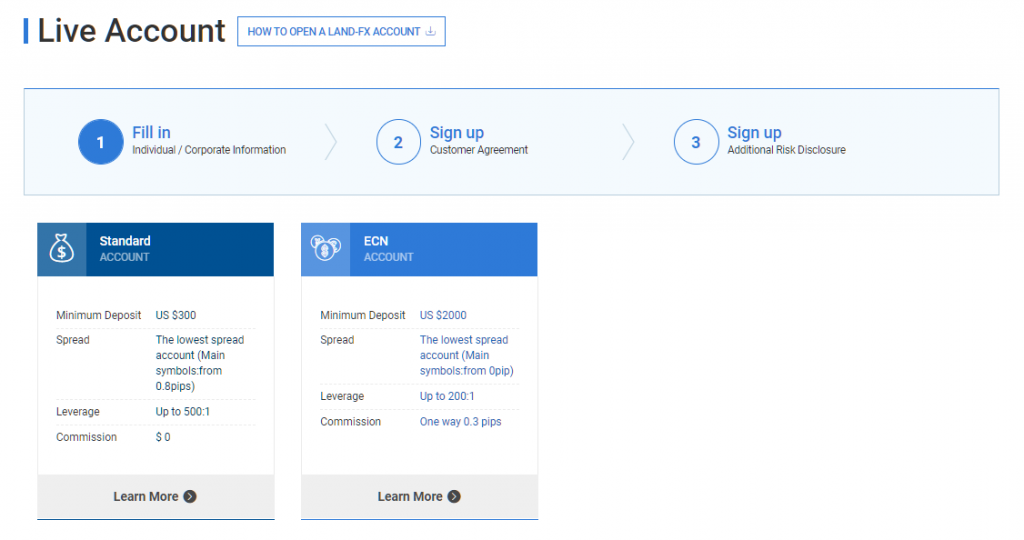 LAND-FX All Account Types
First, let's compare the all account types offered by LAND-FX.
The color of the part that seems to be a point has been changed.
Let's take a quick look at what kind of specifications and conditions are different.
| | Standard | ECN |
| --- | --- | --- |
| Method | STP | ECN |
| Platform | MT4, MT5 | MT4, MT5 |
| Base currency | USD,EUR,JPY | USD, JPY |
| Contract size | 1 lot = 100,000 | 1 lot = 100,000 |
| Min trade volume | 0.01 lot | 0.1 lot |
| Max leverage | 1:500 | 1:200 |
| Margin call | 50% | 50% |
| Stop out | 30% | 30% |
| NBP | ✓ | ✓ |
| Min spread | 0.7pips~ | 0.0pips~ |
| Commission fee | X | Round $7/lot |
| Lot restriction per ticket | 50 lots | 50 lots |
| Max orders | 100 lots | 100 lots |
| Non-deposit bonus | ー | ー |
| Deposit bonus | ○ | X |
| Min deposit | $300 | $2000 |
| EA | ✓ | ✓ |
| Scalping | ✓ | ✓ |
| Stop level | 1.2pips(EURUSD) | 1.2pips(EURUSD) |
| Products | Standard | ECN |
| --- | --- | --- |
| Currency pairs | ✓ | ✓ |
| Metal | ✓ | ✓ |
| Energy | ✓ | X |
| Stoc index | ✓ | X |
Characteristics of each account type
I will briefly explain the characteristics of each account type.
LAND-FX Standard Account
LAND-FX Live account is a so-called standard account of STP method.
The maximum leverage is 1:500 and the minimum deposit is $300.
Please pay attention to the narrow spread.
The minimum is 0.7 pips, which is the lowest level in the forex brokers.
Also, if you open a standard account, you can trade all the products.
Some products cannot be traded with the ECN account described below.
Since LAND-FX has narrow spreads for almost all products, it is possible to take advantage of 500 times higher leverage and start trading with a small amount of funds while suppressing risk.
LAND-FX Standard Account
is recommended for traders like
Want to save cost
Want to start trading with small margin
Want to trade all products
LAND-FX ECN Account
LAND-FX ECN account is an ECN method account type.
Since it is an ECN method, transaction fees are charged, but it is a cheaper level than other brokers, with a round trip of $ 7 per lot.
Also, the minimum spread is from zero pips, so it can be a main account enough for long-term use.
There are 3 points to note.
The first point is that the maximum leverage is suppressed to 1:200.
High leverage is not a good thing, but if you want to trade at 500x higher leverage, choose Standard account.
The second point is that the products that can be traded are limited to currency pairs and metal (gold, silver).
You cannot trade energy or stock indexes on ECN account.
The third point is the minimum deposit amount. The minimum deposit amount for LAND-FX ECN accounts is $2000.
It's a bit high, so if you want to start with a small amount of money, start with Standard account.
LAND-FX ECN Account
is recommended for traders like
Want to save cost
Have enough capital
Currency pair and metals is enough for trading
Common Conditions of All Account Types
In addition, I will introduce the specifications that are common to all account types.
LAND-FX Trading Platform
All account types allows both of MT4 and MT5.
LAND-FX Stop Out Level
Stop out level is 30%.
And margin call is 50%.
LAND-FX Negative Balance Protection System
Of course, NBP applies to all accounts.
Does LAND-FX allow to use EA (Expert Advisor) tool?
Yes, you can use any EA on LAND-FX.
Does LAND-FX allow scalping trading?
LAND-FX does not prohibit scalping, but there are some restrictions.
Normally, there is no problem, but the use of HFT (High Frequency Trading) tools and scalping before and after the announcement of economic indicators are prohibited by the regulations.
The stop level of LAND-FX is a little wider, and it is 1.2pip for EURUSD.
I think it is acceptable, so it is possible to make a scalping trade so as not to violate the regulations.

The LAND-FX stop level is summarized in detail in the separate article "LAND-FX Stop Level | Conditions for Scalping, Stop/Limit Orders", so please refer to that as well.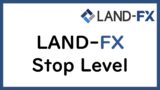 LAND-FX Stop Level | Conditions for Scalping, Stop/Limit Orders
I will explain the stop level of LAND-FX.If the stop level is too wide, it will be disadvantageous for traders who aim f
The most recommended account type on LAND-FX is "Standard Account"
If you are opening an account with LAND-FX for the first time, or if you are wondering which to choose, open Standard account first.
The spreads are very narrow and the trading conditions are good.
In addition, LAND-FX allows you to create additional accounts.
If you get used to trading a little and want to try other account types, you can create an additional account.
Summary
How was that?
If you haven't opened LAND-FX account yet, please open an account by referring to the separate article "How to open LAND-FX account".
\Just 3 minutes!!/
Open an Account