Introduction
This site explains Forex Brokers from the perspective of a trader.
>>See author's profile

In this article, I try to make it understandable to Forex beginners as much as possible.

On this page, I'm explaining the general features, advantages, disadvantages, risks, etc. of Forex brokers.

Some of visitors this site may be concerned about the bad rumors of Forex brokers. Is it a scam?
I'm very happy if my site makes you understand what is a forex broker and you can choose the best broker for you.
Let's get started!!
Broker characteristics
High leverage
Negative balance protection
Gorgeous bonuses
These are the main ones.

Each company has come out with various characteristics. Within a certain framework, overseas Forex brokers have a lot of room to devise to become more attractive brokers.

Let's look at them in order.
High leverage
500 times is normal. The most one I'm using is 1:3000.
 
With a leverage of 1:500 , you can trade $50,000 with only $100. If the leverage is 1:1000, $100,000 trading.

If you trade the same lot, the higher the leverage, the less money you need. With the same funds, you can aim for greater profits.
Sometime I'm asked, the higher the leverage, the greater the profit, but the higher leverage, the higher risk, right?
No, no.
If you trade the same lot, the risk is the same.

Furthermore, the negative balance protection system reduces that risk.
Negative balance protection
Negative balance protection (NBP) means that you can't lose more than your deposited money, i.e. you won't owe money to the broker.

Some brokers provide negative balance protection, some brokers don't.

All brokers I introduce on my web site have negative balance protection system.


In fact, I've had my account negative twice, but it's really reset to zero. This is also very big mentally.

If you make good use of high leverage and negative balance protection system, you can aim for big profits with reducing risk.

NBP is summarized in another article "Negative Balance protection System | The True Story that Saved Me".

In this article, I also explain how to trade with reduced risk.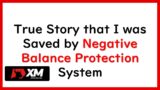 XM | Negative Balance Protection System | The True Story that Saved Me
I will talk about when I was saved by XM's negative balance protection (NBP) system.It is proof that there really i
Gorgeous bonuses
Some brokers provide bonuses, some brokers don't.

Personally, I strongly recommend to use this.
There are three main types of bonuses.
Non-deposit bonus
Deposit bonus
Other campaigns
Non-deposit bonus, you can get credit for real trade when you opened an account. You can start real trading without any deposit. You can withdraw real cash if you get profit using credit. This means you can start real trading without any risks.

Deposit bonus, when you deposit you can get deposit bonus.

The percentage of deposit bonuses depends on the broker.
For a 100% deposit bonus, if you deposit $ 100, your equity will be $ 200.
In addition, brokers carry out various campaigns.
By taking advantage of these bonus programs, you can aim for greater profits with low risk.

Bonuses for each broker and recommended rankings are summarized in a separate article, "The Best Forex Bonus Ranking". Please take a look.
Are these brokers scammer? Illegal??
No. They are legal.

However, as a criterion for selection, you must select a broker that is regulated by reliable financial authorities at least.

Also, I often hear bad rumors that withdrawal request was rejected, the server was down and could not trade, and so on.

This is rumor-level, so in the end you have to decide by yourself, but at least you should avoid vendors who have only bad rumors and no good stories to counteract them.
Few brokers accept US residents
Most of the forex brokers I introduce do not accept US residents. Only a limited number of brokers accept US residents, due to the Dodd-Frank Act.
For brokers I recommend among those accepting US residents, please refer to the separate article, "Forex Brokers that Accept US Residents and US Citizens".
How to choose the best broker?
From my point of view, I'm focusing on the following.
Point:
Regulated by trustworthy authority
Provides negative balance protection system
Provides bonus programs
Provides attractive products
Financial license and negative balance protection system are the minimum requirements.

In addition to these, you should select from the viewpoints of products and fees, ease of deposits and withdrawals, and so on.
Recommended brokers
Based on what I have investigated in the past and recent trends, I have summarized forex brokers that are likely to be candidates in the article "The Best Forex Brokers | Review and Ranking".

And especially for beginners, another article "[For Beginners] How to Choose the BEST Broker for you?" introduces the criteria for choosing a broker, the reason, and recommended brokers evaluated according to those criteria.
Please have a look!!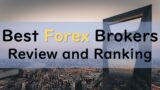 The Best Forex Brokers | Review and Ranking
IntroductionThis site explains Forex Brokers from the perspective of a trader.>>See author's profileThe minim