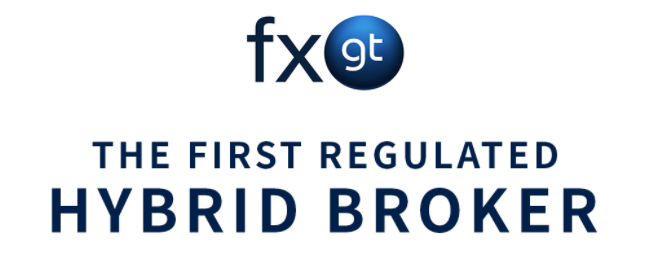 FXGT, which is popular for high leverage trading of cryptocurrencies, offers market information tools on its official website.
All of them can be viewed for free without having to register or open an account with FXGT.
This article provides an overview of each of these tools and how to specifically use them.
What you can learn in this article;
What is FXGT's Market Information Tool
How to use each tools
What is FXGT?
FXGT is a global forex trader that was established in 2019.
It is very well known for its high leverage trading of cryptocurrencies such as Bitcoin and Ethereum and has been increasing the number of accounts since its establishment.
The trading environment is not bad, especially the commissions for cryptocurrency trading are very low, and they also offer a bonus program that is very popular.
The company has obtained a financial license and manages customer assets under a trust protection scheme, making FXGT a reliable forex broker.
FXGT Market Information Tools
FXGT offers three different tools that give you market information.
FXGT Market Information Tool
Trader's Insight
Economic Calendar
Holiday Calendar
All of this information is so important that it can be said to be essential for trading.
This section will explain how to use and understand each of them.
How to Access FXGT Market Information Tool
From the top page of FXGT, go to TRADING → MARKETS.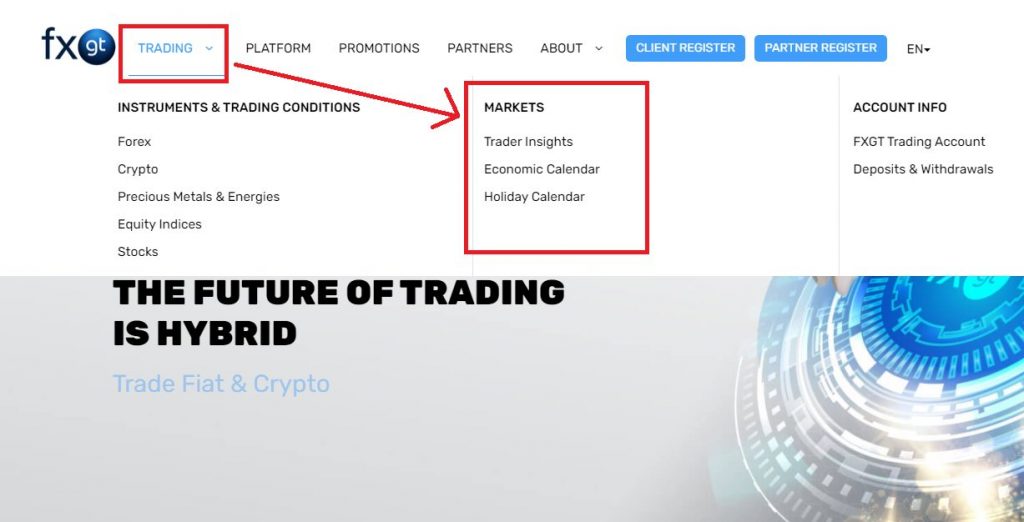 Trader Insights

What is FXGT Trader Insights?
Trader Insights allows you to view the status of positions currently being traded within FXGT.。
When is it needed?
It is possible to visually see whether there are more orders to sell or buy a particular symbol.
In general, the market tends to move according to the psychological state of investors (called sentiment), so by analyzing whether there is strong selling or buying pressure and what the market sentiment is, you can predict the future market flow to some extent.
It is important to note that this data is only of traders who are trading on FXGT.
In particular, the large number of cryptocurrency positions is probably unique to FXGT.
How to use it
From the top page, select Trader Insights, and you will see the following screen.
It may take a while to display, wait a little.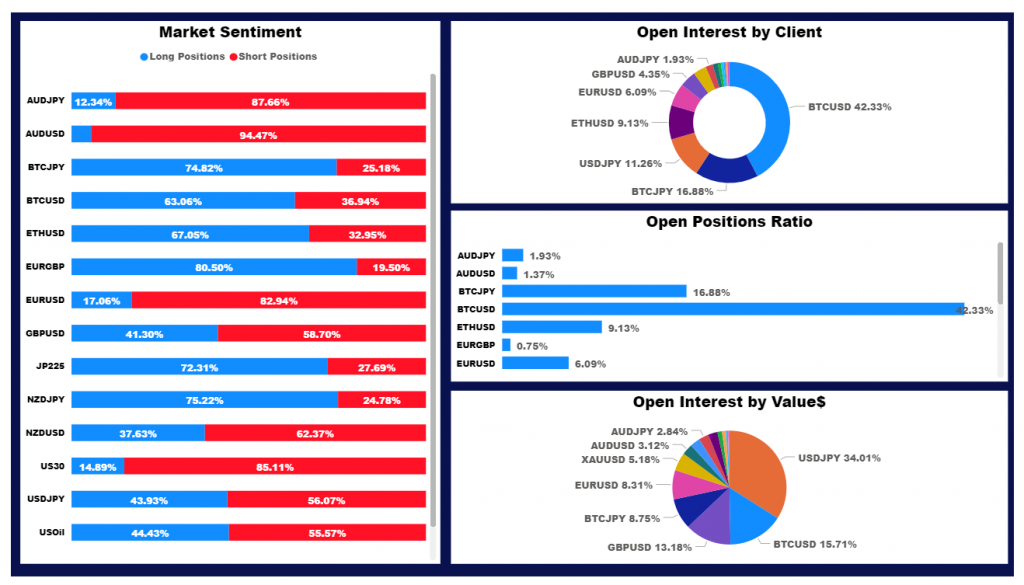 The one I use most often is the Market Sentiment on the left.
You can see the percentage of open positions for each symbol.
If you scroll down, you can see some more stocks.
On the right side, you can see what symbols are being traded a lot.
FXGT has many traders in cryptocurrencies such as Bitcoin and Ethereum, but you can also see that there are many positions in currency pairs such as USDJPY.
Economic Calendar

What is FXGT Economic Calendar?
FXGT's Economic Calendar is a calendar that organizes the dates and times of important economic indicators and keynote speeches around the world that affect the forex market.
When is it needed?
There are a variety of economic indicators such as policy rates, indicators related to the economy, employment statistics, prices, and trade balance.
Depending on which country the indicator is for, the currency or commodity that moves the market will change.
For example, the major indicators related to the U.S. that affect the U.S. dollar (USD) are as follows.
Jobs report, unemployment figures
FOMC Statement
Gross Domestic Product (GDP)
Consumer Price Index (CPI)
Retail sales
Housing Starts, Existing Home Sales
etc.
When such indicators deviate significantly from forecasts or expectations, the market will rise or fall sharply.
When trading, it is necessary to understand the contents of the relevant economic indicators and the timing of their release in advance, and close positions early if there is a risk.
On the other hand, if the news is favorable, you can aim to make a large profit by successfully opening positions.
How to use it
From the top page, select Economic Calendar, and you will see the following screen.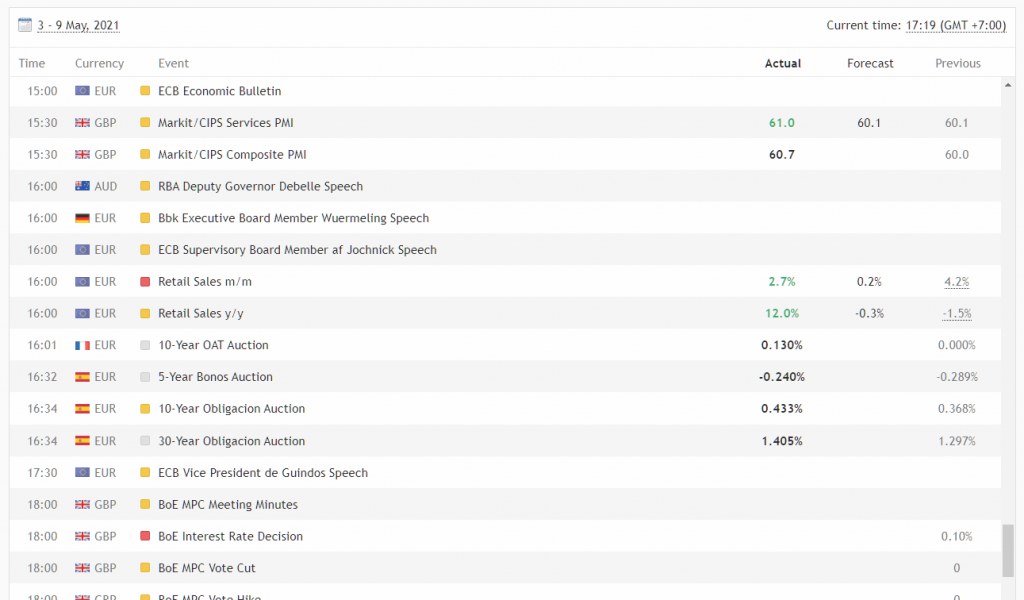 This is a list of major economic indicators and other events around the world, sorted by date and time.
The leftmost column shows the announcement time, and "Currency" indicates the currency that will be affected.
The Event indicates the content of the economic indicator.
Actual is the actual result (displayed after the announcement), Forecast is the prior forecast, and Previous is the value of the previous announcement.
You can change the display range by clicking on the date range in the upper left corner.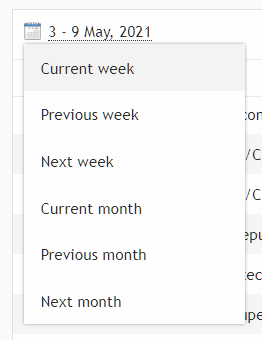 You can change the Current Time in the upper right corner to display the time according to the time zone of your country.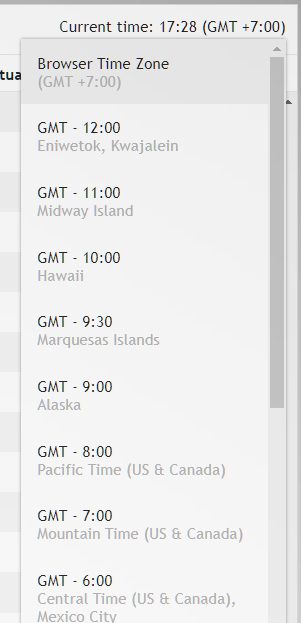 Click on each indicator to view the details.
The image below shows the US employment statistics (unemployment rate).
The U.S. employment statistics, which are released every first Friday, are one of the most important indicators as they have a significant impact on the U.S. dollar (USD), which is the key currency in the world.
The unemployment rate of 6.1% is expected to be slightly worse than last month's actual rate of 6.0%, but if, for example, the unemployment rate were to improve more than expected due to the progress of the COVID-19 vaccination and a significant return to economic activity, the dollar could be bought and the dollar could appreciate at once. In this way, it is possible that other economic news will be released.
In this way, you can incorporate other economic news into your trading strategy by making forecasts.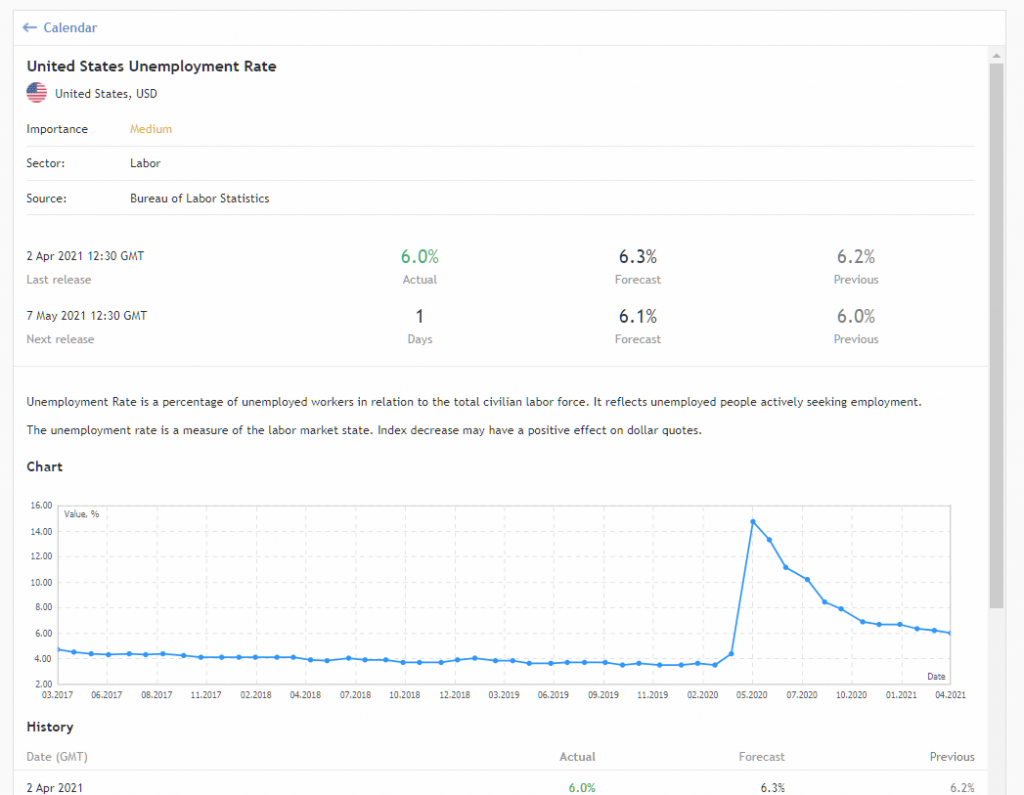 Holiday Calendar

What is FXGT Holiday Calendar
FXGT's Holiday Calendar allows you to check the trading hours of stock indices and other CFD's that are affected by national holidays.
When is it needed?
When trading stocks such as stock indices, metals, energy, etc., check in advance the days and times when you cannot trade.
How to use it
From the top page, select Holiday Calendar, and you will see the following screen.


The image below is for stock indices, but there will be notices on this page for metals, energy, etc. as well, if the trading calendar is different from the usual.
The following image is for stock indices in May, as the US market will be closed on May 31 for Memorial Day, trading of US stock related indices will not be possible.
The time is shown in FXGT's server time, GMT+3.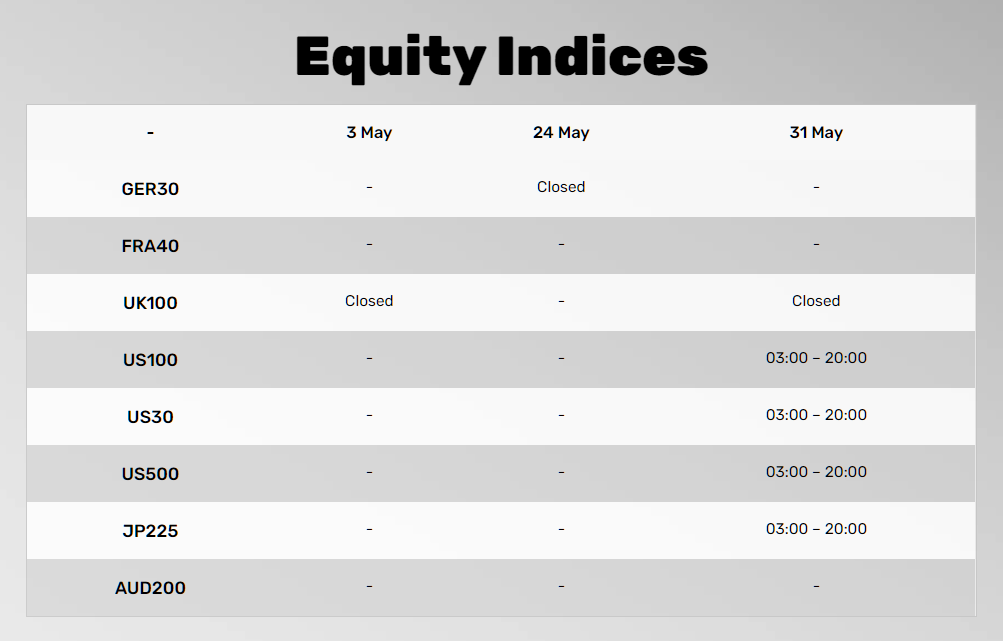 Summary
FXGT's market information is all very important when you are trading.

Please visit FXGT official website and use this information before you trade or when planning your trading strategy.
\Just 3 minutes!!/
Open an Account for FREE
Visit Official Site to See Market Information