The official website of HotForex provides a lot of educational content.
From educational content for Forex beginners to market analysis information that can be used by advanced users, you can aim for even higher-grade trading by making good use of it.
This article provides a list and overview of educational content.
Most content can be viewed without opening an account with HotForex.
And it's all free.
There are a lot of video contents and so on, so I think it will be a great learning experience just to look at this video content without reading forex books.
What you can learn by this article;
Overview of HotForex Educational Contents
How to Join Webinars and Events
What is HotForex?
HotForex is a broker that provides forex services all over the world, founded in 2010.
HotForex is developing services not only in Asia and Europe but also in the Middle East and Africa, and the scale of the company is very large.
I guess HotForex is one of the most popular broker in the world.
The FPA (famous web site for its largest collection of forex brokers reviews) rated HotForex as 3.726, which is higher than XM's 3.022. (As of April 10, 2021)

How to Access HotForex Educational Contents
Click EDUCATION on the top menu of HotForex Web Site.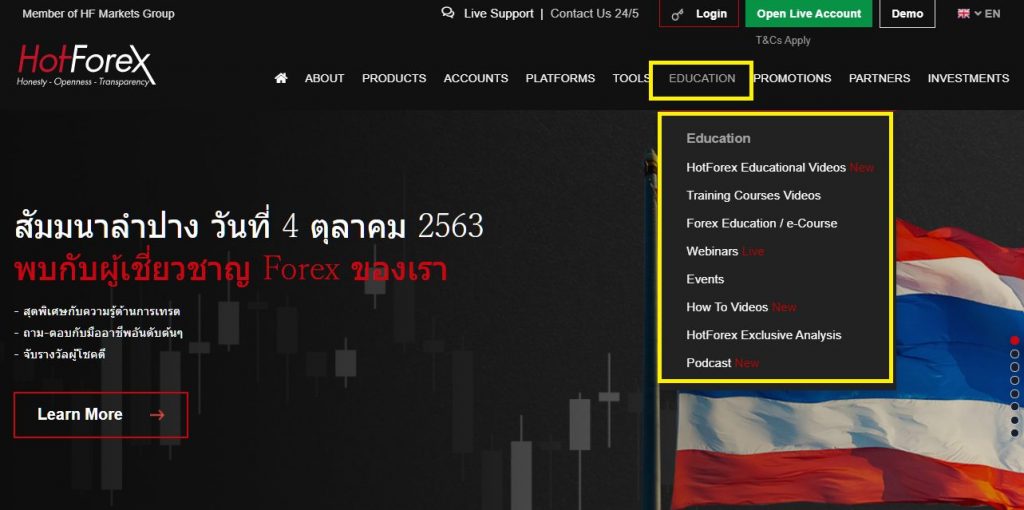 List of HotForex Educational Contents

Below is a list of HotForex educational content.
It is offered in 8 major menus.
Forex Education / e-Course and Webinar are only available to those who have an account.
Also, for the training course video, you need to open an account to view only some contents.
Menu
Account Needed
Description
HotForex Education Videos
Educational Videos by Professional Analysts.
Trading Courses Video
✔
(Partially)
Video and e-book content that can be used by beginners to advanced users.
Forex Education / e-Course
✔
Web-based educational content
Webinars
✔
LIVE format webinar. Advance application is required. Q&A is also possible.
Events
Offline events around the world* No plans to hold for the time being due to COVID-19 situation
How to Videos
Video tutorial on basics such as how to log in and how to use MetaTrader.
HotForex Exclusive Analysis
Content such as technical analysis and market research
PodCast
Educational content in podcast (audio) format
HotForex Educational Contents
From here, I will introduce what kind of content is specifically included in each menu and how to watch it.
HotForex Education Videos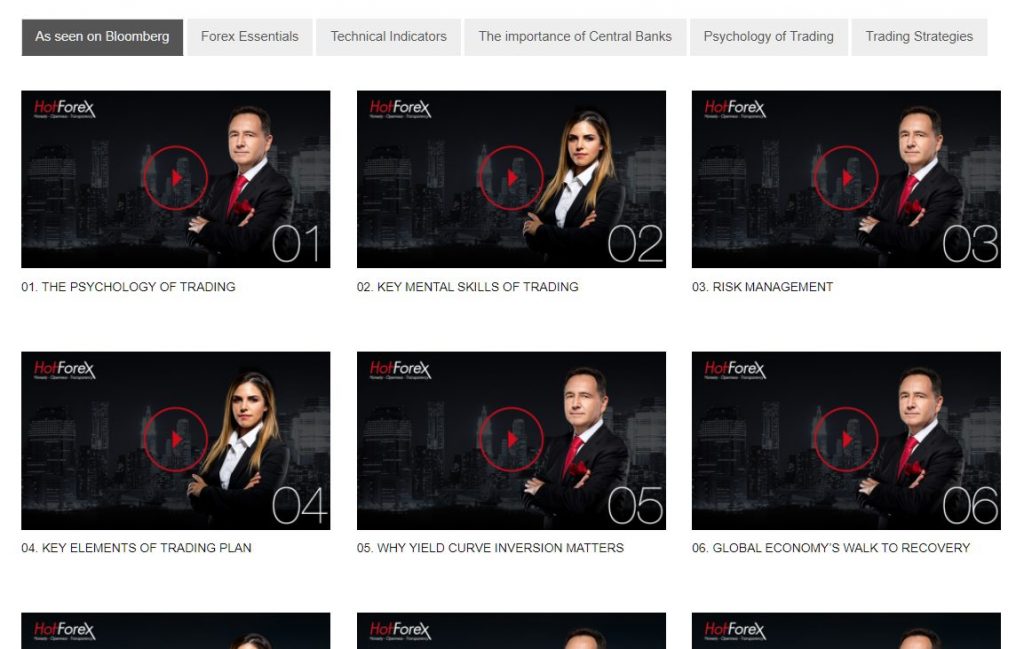 Forex educational videos.
It is quite fulfilling. More than 30 videos.

Forex beginners should watch this first.
As you can see, there are many basic knowledge required for Forex trading.
Before learning about individual trading strategies and techniques, you can learn about global markets and investment sentiment.
Contents of Education Videos
As seen on Bloomberg
Forex Essentials
Technical Indicators
The importance of Central Banks
Psychology of Trading
Trading Strategies
Trading Courses Video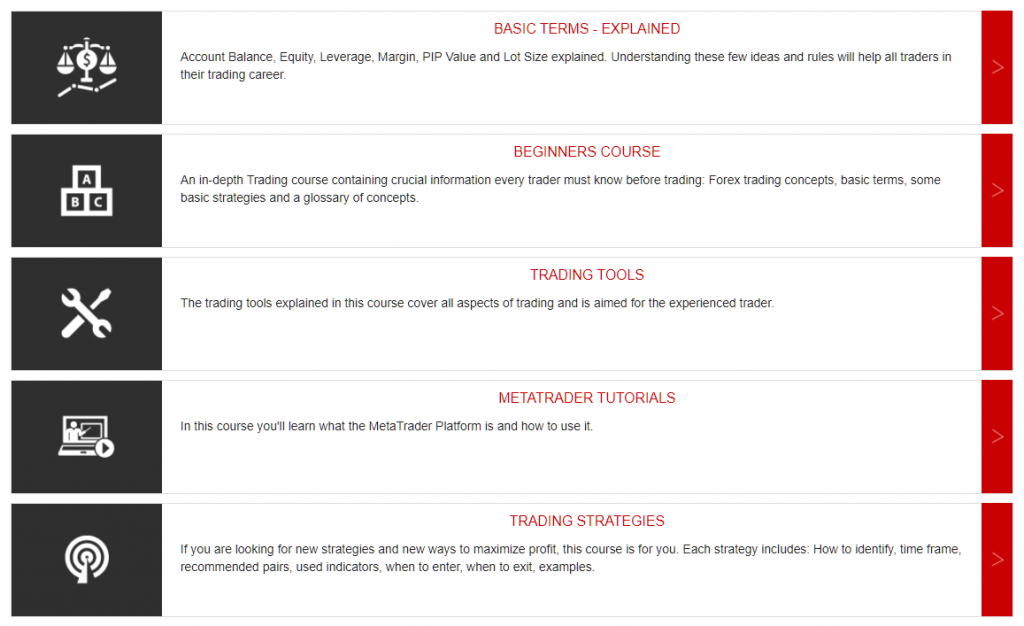 Training course video.
This is highly recommended content.
Whereas the Forex educational video mentioned above was a background knowledge for Forex, this training course video will teach you more practical content such as specific trading strategies and how to use indicators.
The content is unparalleled, with more than 50 video content alone.
The training course videos are further divided into 15 categories to provide content.
Forex V.O.D (Video on Demand) is further divided into categories, which alone provide more than 20 contents.
E-books are digital book-style content, and others are video content.
In addition, some contents can be viewed only by the account holder.
Let's open an account at this opportunity.
Contents of Trading Courses Video
Basic Term – Explained
Beginners Course
Trading Tools
MetaTrader Tutorials
Trading Strategies
Commodities and Futures Contracts
CFDs and Stocks
Forex V.O.D
Economics
Forex eBook
Advanced eBook
Crypto Currencies
Advanced Crypto eBook
Commodities and Futures eBook
CFDs and Stocks eBook
\Just 3 minutes!!/
Open an Account for FREE
Forex Education / e-Course
Forex Education / e-Course.

Among the educational contents of HotForex, it is the content provided only to the account holder.
To be honest, it's not that special.
I feel that other content that can be used without opening an account is more luxurious.
Forex Education / e-Course is content that can be viewed in web format.
After logging in to myHF, you can choose from the education menu at the top.
It is explained in an easy-to-understand manner using charts.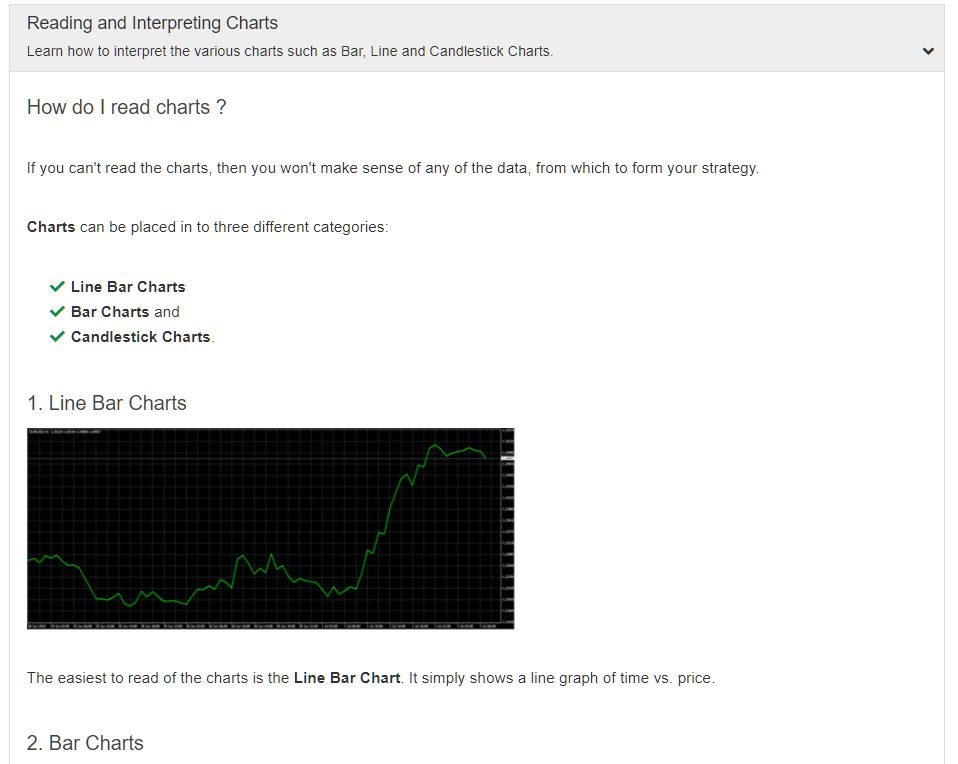 Webinars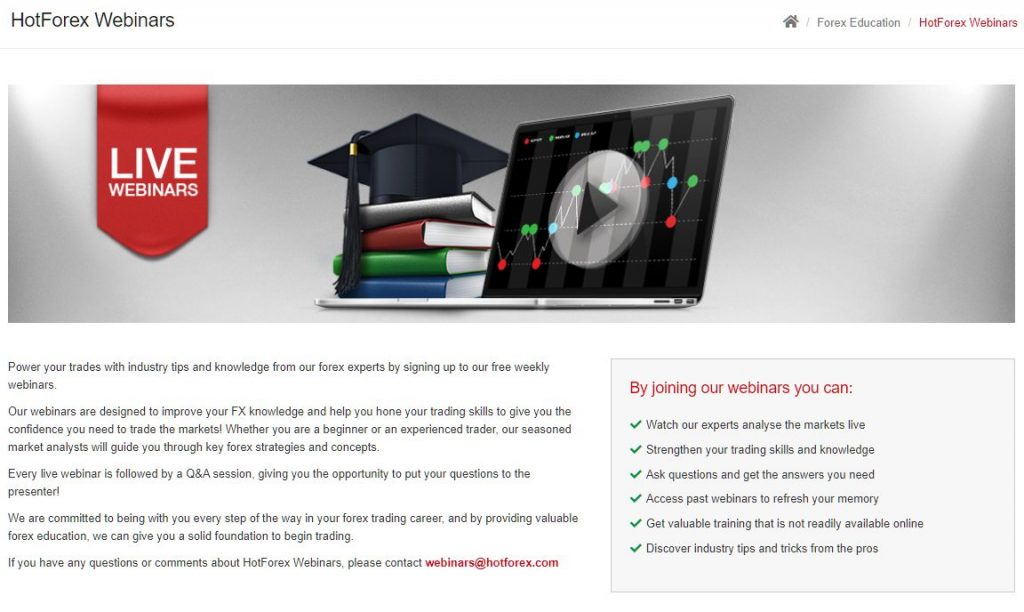 HotForeex webins are provided in Live format.
Broadcast dates vary depending on the language, for example, in English, it will be broadcast three times a week on Tuesdays, Wednesdays, and Thursdays.
Broadcast start time is 11:00 AM or 12:00 AM in GMT standard time. Daylight saving time (DST) is one hour earlier.
The number of monthly events and the content of the webinar change every month.
For example, there are a total of 9 events scheduled for April, 2021. The contents cover everything from Bollinger Bands and how to use oscillators to slightly advanced contents such as explanations of SAR and ADX.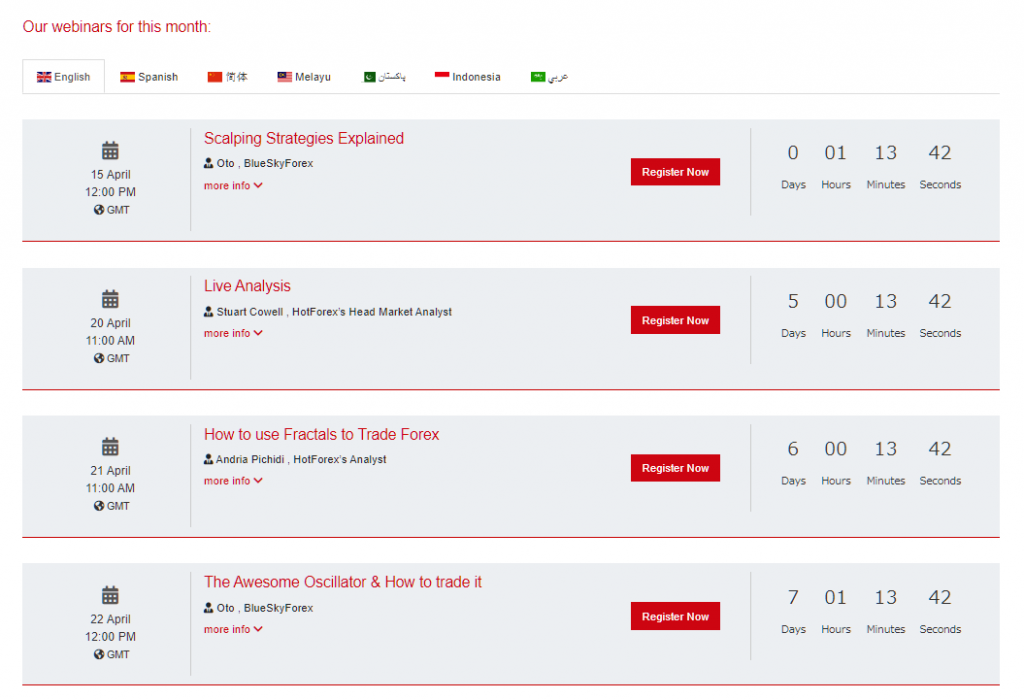 Pre-registration is required to participate in the webinar.
Click "Register Now" to display the application screen.
If you have already opened an account with HotForex, just log in to complete the application.
If you do not have an account, you will be taken to the account opening screen, so please open an account before joining.

\Just 3 minutes!!/
Open an Account for FREE
Events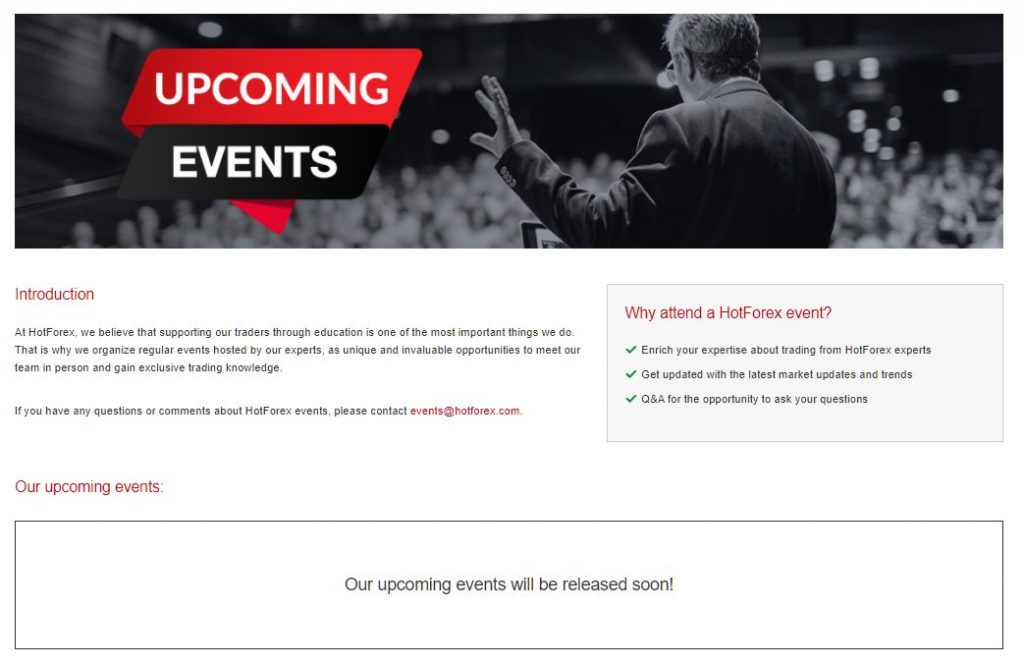 Information about the events.
HotForex frequently hosts offline events such as seminars around the world.
Since March 2020, all offline events have been postponed due to the influence of COVID-19, and there are no plans to hold them after 2021 onwards at this time.
I have participated in this kind of offline event, the content is a little different from the videos and webinars, and I can actually feel the heat of the traders, which led to my motivation.
You can see photos of past events on the official website of HotForex.
If you look at the 2019 and 2020 gallery, before the coronavirus spread, you can see that it is hosting various events around the world. You can understand the corporate strength and attitude of HotForex very well.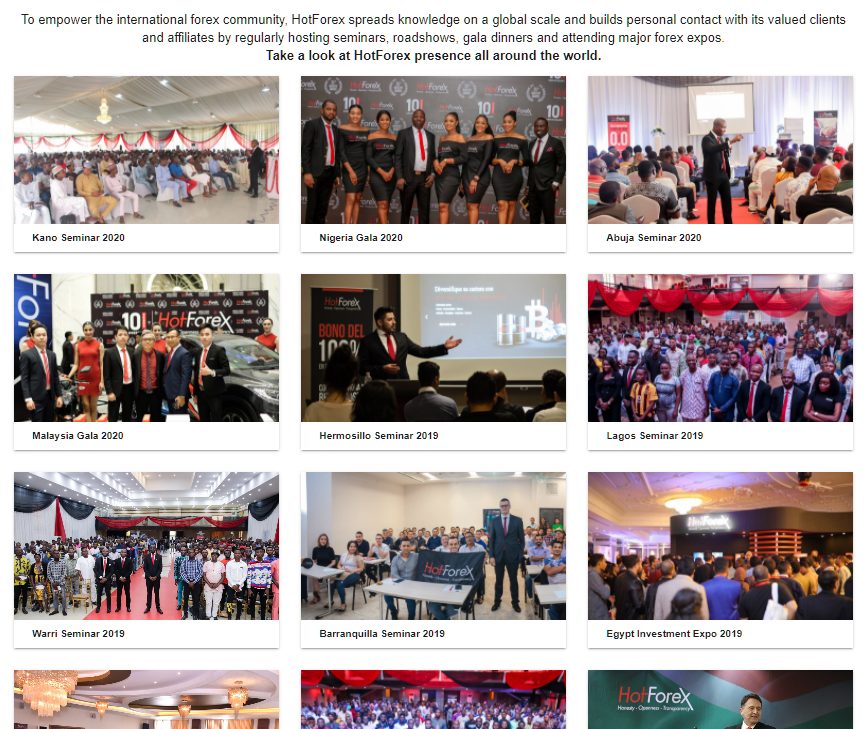 How to Videos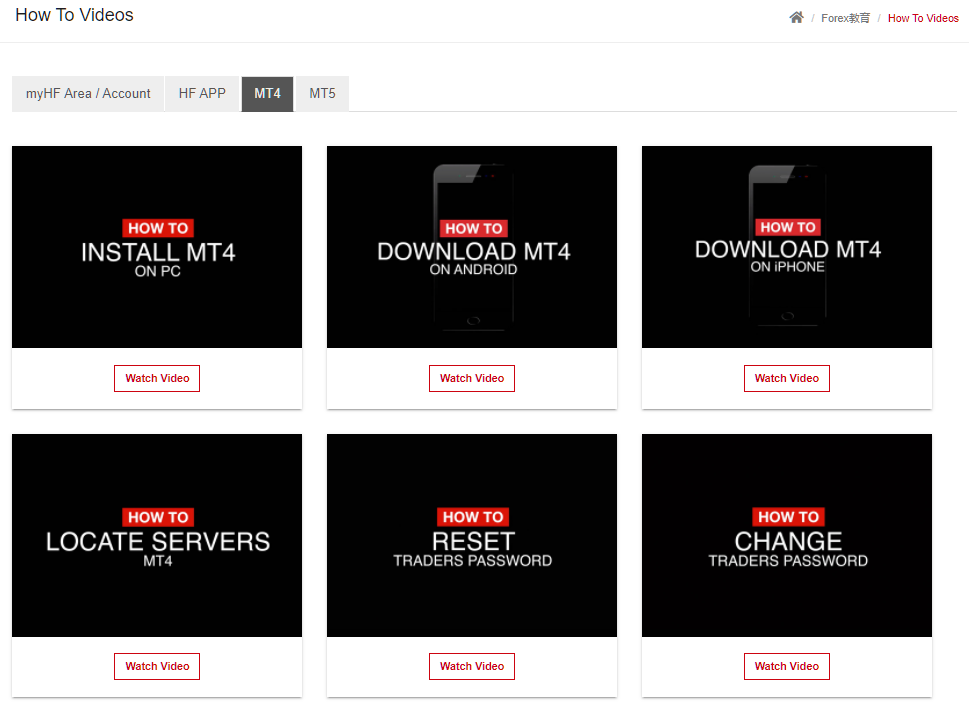 How-to video, the so-called video tutorial.
Here, you can learn basic contents such as how to log in to myHF, which is a member page on the official website of HotForex, how to open an account, how to install MT4, and so on.
There are about 20 contents in total.
It is in video format, and the operations are explained in order using the actual screen.
This video has no audio commentary and can be grasped entirely from images.
The image is a video explaining how to upload identity verification documents when opening an account.
The procedure is carefully explained one by one with a video.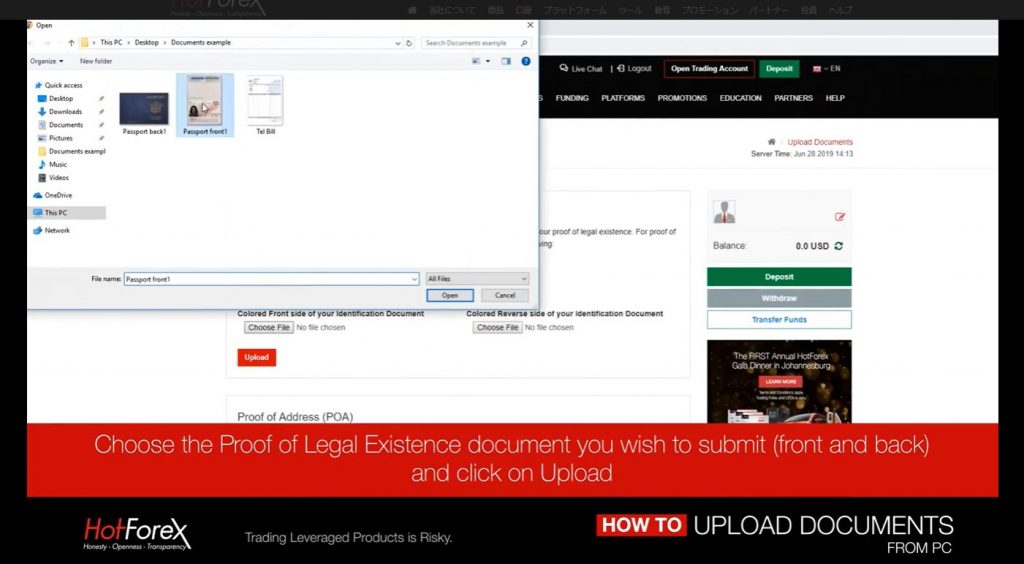 Contents of How to Videos
myHF Area / Account
HF APP
MT4
MT5
HotForex Exclusive Analysis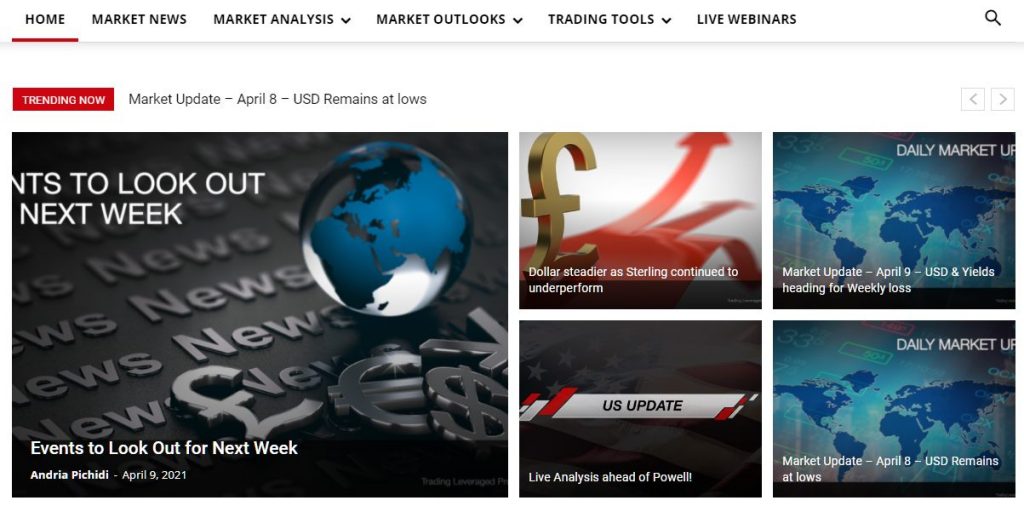 With HotForex's original analysis, you can learn about recent market trends, not the knowledgeable contents such as market news and analysis results.
Specifically, it contains the following content.
From some menus, you will jump to the educational content mentioned above.
Contents of HotForex Exclusive Analysis
Market News
Market Analysis
Market Outlooks
Trading Tools
Live Webinars
One of the recommended contents is the Trader's Board.
You can see the volatility of each currency against the other currency, the trader's position (sell or buy ), trade volume, etc.
For example, the image is a Trader's Board one day, and you can see that the euro (EUR) is weak against any currency and the AUD (Australian dollar) is strong against any currency.
You can formulate a trading strategy by referring to the strengths and weaknesses of these currencies and which positions traders around the world have.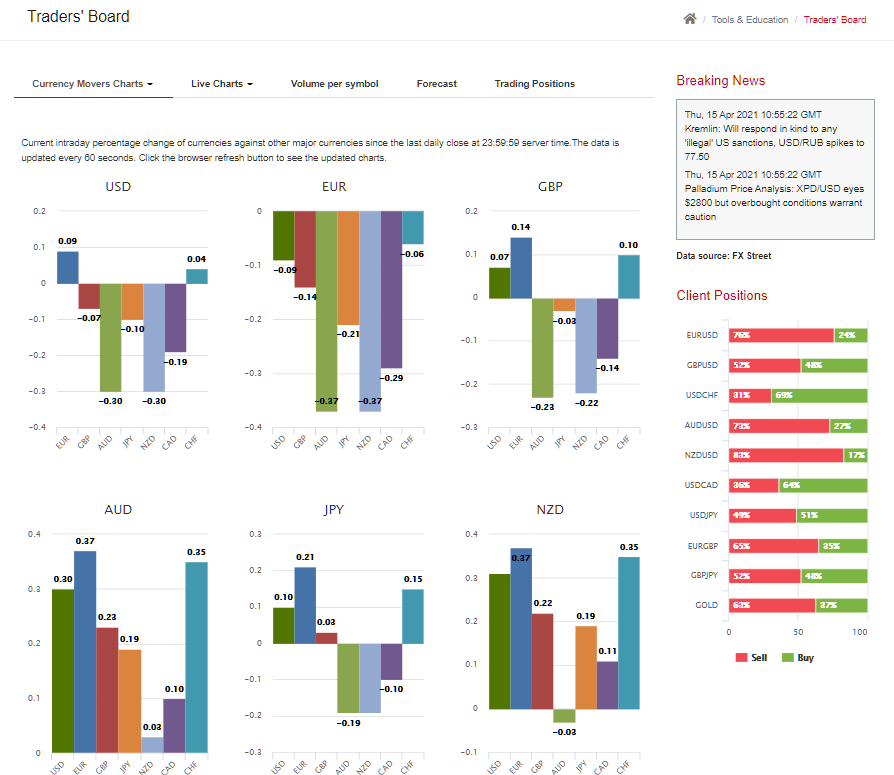 Podcasts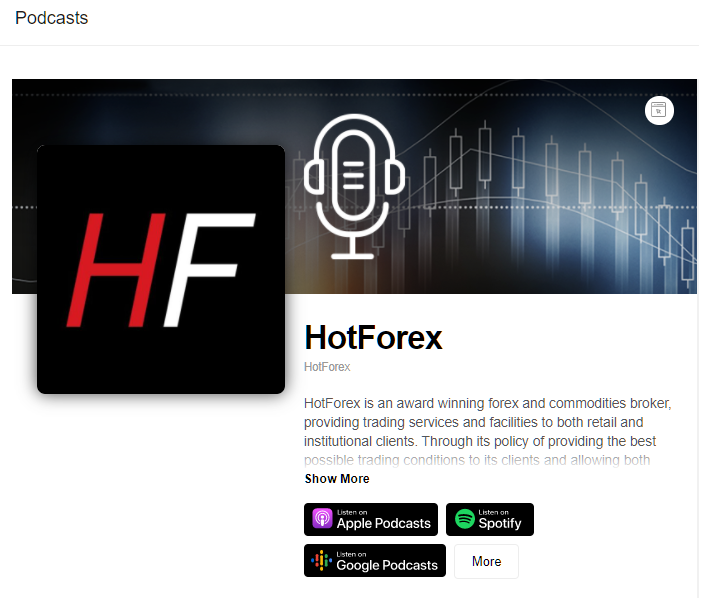 Podcasts are audio content.
Recently, audio content such as Internet radio and Clubhouse has become popular again.
You can easily listen to it on the train while commuting.
HotForex podcasts can be listened to in real time if they are live-streamed, and you can listen to past content at any time, even if the live broadcast has ended.
You don't need to apply or open an account in advance to listen to the podcast.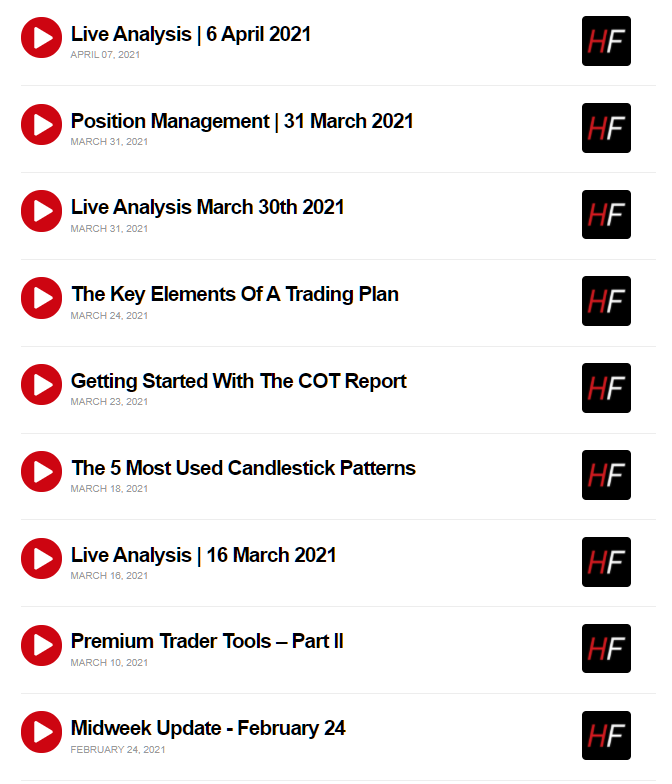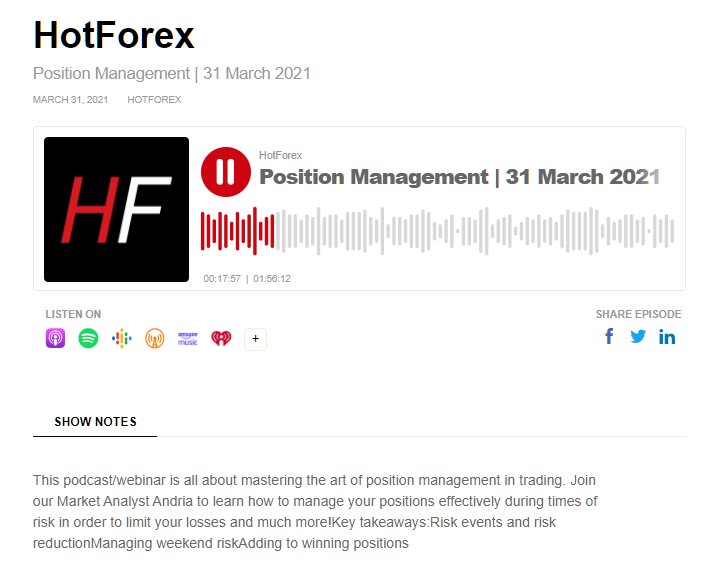 Summary
What did you think.
You can see that HotForex has a fair amount of educational content.
As mentioned at the beginning, HotForex is very famous and popular all over the world.
One of the reasons for its popularity is that it has a wealth of educational content.
This is because beginners can start trading while studying Forex.
Please make effective use of it.
\Just 3 minutes!!/
Open an Account for FREE
Try Educational Contents on Official Site